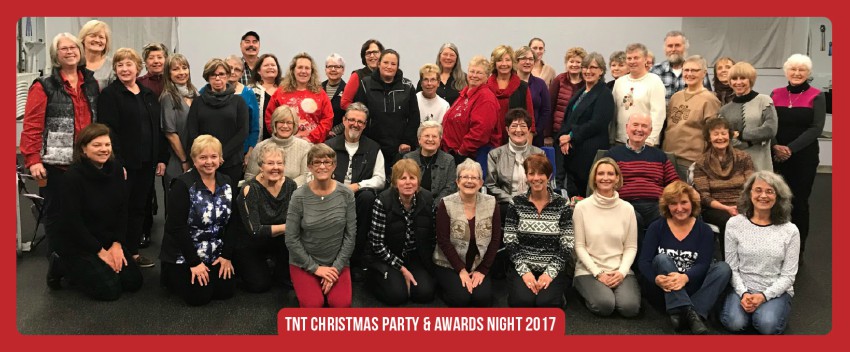 As 2017 has come to an end we now set our goals for 2018!
Message from Janice
Some students are training at TNT to earn titles and awards and to enjoy the thrill (or terror) of competing in the ring. Other students enjoy the process of teaching their dog new skills and the special relationship they are building by spending this unique time together. Whichever journey you choose we are here to teach, cheer on, and support you. TNT Competition instructors are Maureen Murray, Lori Little, Lale Aksu and Linda Moran. They compete with their own dogs not only in competition obedience or rally, but also other dog sports as well. Once you get the "fever" it tends to bleed into other areas and becomes contagious. I know I am certainly inflicted.

In this newsletter any of our students that submitted information to us on their dog's accomplishments thru 2017 are listed as well as any results the instructors submitted on their own dogs.

I have had a busy and successful competition year. I train and compete in Competition Obedience and Retriever Hunt Tests. It was very exciting to have my 2 year old Golden, Sparks earn his Master Hunter title. Sparks also went into the Novice B ring and earned a 200 score, he completed his Novice title with 2 more 199's and finished the year earning his first Open B legwith a 199. Remi and Pounce also had an amazing hunt test year and both earned the elite title of Grand Master Hunter. Remi again this year made the top AKC Obedience Labrador List and was invited to the National Obedience Invitational in Florida and also an invitation to compete at the prestigious Westminster Obedience Championship in New York City. Altho I won't be attending these events, it is an honour to have qualified for and to be invited. Pounce now has 98 AKC OTCH points, you need 100 and must have 3 class wins to complete the title which she has, we are almost there. In my career thus far I will have earned 6 AKC OTCH titles, 9 CKC OTCH titles, and 200 scores with 6 different dogs ranging from classes in Novice, Open andUtility. This record is unprecedented. The hard work, determination and dedication to the sports I love has been so rewarding, and best of all the time I spend with my dogs, friends and the new people I meet along the way.

I gave numerous seminars in 2017, I am booked solid for 2018 & 2019 including back to back seminars in Quebec and New Brunswick in which I will sightseeing during the week. My Summer Camp for 2018 sold out in two days (some audit spots available). Over the years it has become very popular and a sought after event for handlers from all over the US and Canada. I would like to thank Maureen Murray and Jane Eskuri for their continued support, help, andattendance at this special yearly event.

As I travel and compete at different trials I have numerous handlers tell me how much they value my sharing of training techniques and tips thru my seminars, DVD's and YouTube Videos.

To be able to help someone is wondrous to be acknowledged for it inspires me to help them further. I feel it is integral to publicly acknowledge those that have mentored me in my journey. Everyone has a beginning. 30 years ago I travelled to California to train with AnneMarie Silverton. That was the first time I saw heads up engaged heeling, no one around here taught it, so I went out and sought how to learn it, with my Dalmatian Rika in tow. I trained with AnneMarie now retired, for almost 10 years, she had a huge influence on my early training days. In thebeginning,  I also worked with Patty Ruzzo with my Dalmatian my Goldens and Labs, she was my first introduction to positive reinforcement training. Another mentor that I have enjoyed working intermediately with for the past 30 years is Sylvia Bishop. My techniques and philosophy on dog training have evolved significantly over the years. I no longer use corrections and have achieved much better ways to communicate with my dogs, in turn they are more confident, happy and more accurate dogs in the ring. The amount you can learn about dog training is endless. And that is the reason why I bring top seminar presenters to TNT every year. I have attended countless seminars in my 45 years of dog training, and I personally thank each and every seminar presenter for sharing their skills, and knowledge.

Happy Training in 2018

Janice Gunn

Click on the instructor buttons below
to see the awards and titles earned by that instructors students
Janice Gunn 
Most Improved Student:
Steve Hall with Marilyn Golden Retriever
This past year Marilyn earned:  CKC titles- RN, RI, RA,WCI, AKC titles- CDX, RN, JH,
WC,TD.
Lâle Aksu & Students 
Top Student:
Jennifer McNichol with Nyx  Husky X
Most Improved Student:
Kimberley Friesen with Bonnie Beagle
Titles Earned by Lâle & Her Students
Janet Winch– Christopher – Sheltie – earned their Rally Advanced title (RA) – Companion Dog (CD) he is now Ch Highledge Twisting Fate CD RA
Evelyn Seto – Marty– King Cavalier Spaniel – earned their Rally Intermediate title (RI), Rally Advanced title (RA), Master Snooker title (MSADC)
Jennifer McNichol – Diesel – Husky – earned their CARO Rally Novice title
Jennifer McNichol – Nyx – Husky X – earned their CARO Rally Excellent title, CARO
Rookie Working title and a few Agility titles
Terri Gueck and her Tibetan Terriers have been busy this year….Tulku, GCH Kyeri's Sengeri Tulku RI, AM RN TKA celebrated the following achievements in 2017…
CKC: Grand Champion, Rally Novice (with 2 HIC placements) and Rally Intermediate (with a HIC placement) AKC: Rally Novice, Novice Trick Dog, Intermediate Trick Dog, Advanced Trick Dog
Jetsun (GCHEX AM CH Kyeri's Jetsun Karchu RE AM RN TKA) came out of retirement at almost 13.5 years old to earn the following titles: AKC Novice Trick Dog, Intermediate Trick Dog, and Advanced Trick Dog
Indyi (Ch Wanted Nice Dog's Indyi Lamleh TKN) earned her Novice Trick Dog title.
Mary Philpot – Murphy – NSDTR- worked with Fun and love in Rally Obedience, earned two legs towards her Campion Dog title, and logged over 200 hrs this year as a St. John's Ambulance Therapy Dog
Megan Warner – Knives – Poodle – worked with Fun and love in Rally Obedience and are almost ready to compete, Knives earned his Barn Hunt Instinct (RATI) and Novice Barn Hunt (RATN). He is know  Divinitys Delicious Creamsicle RATN – Fun fact: he got his RATI before he was a year old.
Karen Peters – Cruz – Havanse-  earned their CARO Rally Novice title and had super Fun in Agility Fun Matches
Jane Pennington – Maya – Briard – earned their AKC Rally Novice title – this is Maya's first title
Dianna Koller – Bratach – NSDTR – earned their CARO Rally Novice titles with HICs and two legs towards their CKC Novice rally title
Linda Clark – Cruz – Aussie – earned their ASCA Rally Advanced title and many Agility titles
Kimberly Friesen – Bonnie – Beagle – earned their CKC Rally Intermediate title and two legs towards their Advanced Rally title. In addition, Bonnie earned her Cwags nosework level 2 title.
Lori Lothian – Bella – Corgi – CARO Rally Novice Team title, CARO Rally Advanced title, CKC Rally Advanced title, Rally Excellent title, and 8 RAE legs (Wow) and drumroll CKC #1 Corgi for Rally for 2017.
Deborah Foster – Santos is 14 years old in January and now having sight with hearing challenges however he still wants to please me and in doing so this fall we achieved three levels of Trick Dog Titles with Do More With Your Dog. Trick Dog Novice, Trick Dog Intermediate and Trick Dog Advanced. These titles are now AKC pending for TKN, TKI & TKA. He was also out enjoying a couple of swims this summer. MBISS BIS BBE Am.Can.Ch.Violet Sky Above TP CD RE CGN/AKC CD RA CGC HIT TKA
Deborah Foster – Sparkle and I achieved her 3 Q's with two HIC for her CKC Rally Novice Title and a Canine Good Neighbour Title. Three weeks after she turned 12 years old (October 15th) at the Chuckanut Trials, Sparkle achieved her AKC Rally Novice Title with a third place in her class with scores in the 90's (except one due to handler error costing her a 10 point deduction). In addition, Sparkle qualified at the two AKC Rally Trials put on by Whidbey Island Kennel Club in Monroe, WA for two legs towards her Rally Intermediate Title. The first day she placed 4th in her Class with a 95 in a class of 10 dogs. Second day she placed 4th out of 12 dogs with a score of 92. Also two levels of Trick Dog Titles with Do More With Your Dog are Trick Dog Novice and Trick Dog Intermediate. MBISS BBE Am.Can.Ch.Violet Sparkle Of My Eye RN CGC/AKC RN HIT TKI
Deborah Foster – Shimmer and I have achieved her CKC Rally Novice Title with 3 HIC, two 99's and our first perfect score of 100! Then on to her Intermediate Title with two 2nd place & two 3rdplaces in her Class, her Advanced Title with a HIC, 2nd & 3rd place in class and her Excellent Title with 3 HIC & 2nd in Class along with a CGN Title. On the other side of the Border Shimmer accomplished her AKC Rally Novice Title with a 2nd in Class and her Rally Intermediate Title with HIC & three 2nd place in Class. Recently in Monroe, WA she earned two legs towards her Advanced Title. Also three levels of Trick Dog Titles with Do More With Your Dog are Trick Dog Novice, Trick Dog Intermediate and Trick Dog Advanced. We will be working on Shimmers next level of Expert which will also be submitted to AKC. We also had some fun trying out Chase Ability this Fall with Shimmer. Can.Ch.Violet Shimmering Sensation RI RE CGN/AKC RI TKI
Deborah Foster – In April Kareem came out for his first time to the Conformation Shows competing as a puppy in the Bred By Exhibitor Class where he took 5 points towards his Canadian Championship Title. We have also achieved three levels of Trick Dog Titles with Do More With Your Dog, Trick Dog Novice, Trick Dog Intermediate and Trick Dog Advanced. We are working on Kareem's next level for Expert which will also be submitted to AKC. These titles are now pending for AKC TKN, TKI & TKA. Violet Skies N A Noble Knight TKA
Lâle Aksu – Manchester Terrier- Qiss earned her CKC Tracking Dog Excellent (TDX), Tracking Champion (TCH) in AKC Tracking Dog (TD), Variable Surface Tracker (VST), Rally Intermediate (RI), Rally Advanced (RA), Beginner Novice (BN) in CARO Rally Bronze , in AAC Master Agility Dog of Canada (MADC), in addition Qiss got into the Canadian Manchester Hall of Fame. she is now TCH IntCH/NatCH CH Black Bandits Qiss ME Kwik CGN PCD RE TDX UTDX NAG NJW NPAD CHOF plus all her AKC and other venue titles.
Lâle Aksu– NSDTR- Lumen earned her AKC Companion Dog (CD), Rally Advanced (RA), she also earned her Grand Championship in Conformation for CKC and her American Championship. She is now IntCH GCH Am.CH Tollchester's Bright Eyes CGN PCD CD RE RI WC and Am. CD CGC RA
Lâle Aksu – Manchester Terrier- Eddie earned his Lifetime Achievement Award in AAC Agility (100 Master Standard Qs/125 Master Game Qs), he earned his CARO Rally Master Championship, he got inducted in the Canadian and American Manchester Hall of Fame and placed 2nd place in both AAC Agility Regionals and Canadian Agility Nationals 2017 he is also known in Canada as NCH CRMCH AGMCH ATCH Tollchester's Black Vortex CGN CDX, RAE2 NPAD CHOF
Lâle Aksu– Manchester Terrier- Metric earned his Tracking Dog (TD) at just 9 months of age. He won four Best Baby Puppies in Group and won two Best Puppy Groups and has almost finished his Canadian Championship. He is now Black Bandits U Got It All Metric TD
Lâle Aksu – NSTDR – Paris earned her Canadian Championship and is almost finished in US.in addition she earned her American CGC and her first leg towards her CARO Rally Novice. She is now CH StarCrowned Tollchester's Famous For Being Famous CGC.
Lori Little 
Top Student:
Kelsi Warawa with her Golden Retriever Rio's Kurios Cirque DuSoleil  'Soleil' 
Earned 2 legs towards her CD and also completed her CKC RE title in three straight trials.
Titles Earned by Lori's Students
Mary Philpot with her Nova Scotia Duck Toller Tollerpride's Make Mine Murphy CGN RA PCD 'Murphy' earned 2 legs of CD and logged over 200 hours as St. John Ambulance Therapy dog
Marni Stanger with her Newfoundland Mostabear's A Day to Remember 'Remi' earned 1 leg of PCD
Heather Hay with her Flatcoat Retriever Swiftwater 's The Steadfast Fool 'Freddie' earned two legs of PCD and Canadian CH and AKC conformation points too.
Linda Moran & Students 
Titles Earned by Linda & Her Students
Linda Moran and Nova Scotia Duck Tolling Retriever, Kimber, Kimber earned her CD this year with two 199 scores and a 197 ½ Those scores didn't get us a HIT, but it got us one HIC. Also she completed her show CH Kimber also earned her Master hunter title. Kimber was the 4th Master Hunter toller bitchCH Kasomor's Pop 'Em N Drop 'Em MH WCX CD. And she also has a litter of 9 at home born on December 9
Tina Klimko and Zeus, Belgian Shepherd Tervuren  Espritvent BraveheartTitles obtained in 2017:Herding Tested,Junior Herd Dog, Pre-Novice Obed. CGN
Janice Howe This has been amazing year! Moody and I have accomplished many new skills, including Heads Up Heeling! I honestly thought this could never happen, but it has. Moody also received his CD this year. We will continue to work towards our Open CDX (and Utility). We attended many seminars this last year including Marko Koskensalo, Denise Fenzi, and Janice Gunn's summer camp. We have met and talked to many inspiring experienced dog handlers. We had a very sad time when we lost our best friend, my heart dog, our female GSD Ebony this summer. She is responsible for this journey I am on into the dog sport world.This fall an opportunity to welcome into our life a Belgian Malinios puppy. Fireball's Ava came to us at five and a half months, after being returned to the breeder. She has very solid Malinios IPO working line parent. Ava will also work towards her CKC obedience titles and maybe some agility work for fun.
Mareen Murray & Students 
Maureen's Year End Comments
2017 was another fun year of harassing (oops, coaching) my students! My family doesn't call me "Sergeant Major" for nothing.
It is such a joy to share my love of the sport with so many wonderful people and to see them be successful. But, most of all, it's inspiring to see the comradeship and sportsmanship they exhibit as they cheer each other on. "Q" or not, they take home the dog they love and look forward to the next opportunity. I'm looking forward to 2018 as so many teams will be in the ring in pursuit of the next title.
I am pleased to prepare this synopsis of results for 2017 that showcase not only CKC Obedience accomplishments but highlight the versatility of these teams. I've tried my best to ensure I got everything possible, but if I have missed someone/something, my apologies!
Happy Trialling in 2018
Maureen Murray
Top Student:
Jan Burghardt
Most Improved Student:
Bonnie Norquay