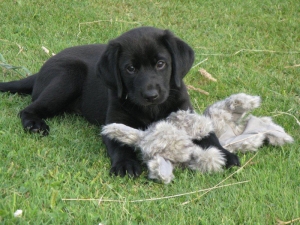 Shortly after my young Labrador puppy Mighty received his first set of vaccines, his stool became quite loose.  I tried different types of kibble, and he visited the vets numerous times for tests.  He remained on antibotics for up to a month at a time.  Nothing helped.
Suzi Beber from Smiling Blue Skies was imploring that I try West Coast Canine Life mixture.  Finally after there was no other resolution for my poor puppy, I put him on the food.  Within 2-3 days, his stool became 100% normal, especially amazing when nothing else worked.  I recommend WCCL for any dog with allergies, gastro problems, cancer, or any other condition.  It works, and the dogs love it!
WEST COAST CANINE LIFE is a local human quality, organic, whole foods diet for your dog. It has been developed to meet the National Research Council's daily nutritional requirements for dogs.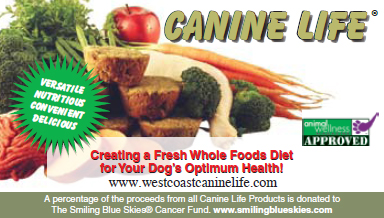 Designed as a hypoallergenic formula, West Coast Canine Life Pre-Mix is created in small batches in two certified organic and kosher facilities, one in BC and the other in California. Follow the recipe included, and add your choice of fresh ground boneless meat, vegetables and fruit. Mix, bake and serve for a complete and balanced Vet Approved Diet that most dogs LOVE! West Coast Canine Life frozen meaty muffins are also available in a number of locations in Canada. WEST COAST CANINE LIFE diets address the following health issues:
Allergies
Skin problems
Immune disorders
Thyroid conditions
Kidney, liver and heart disease
Cancer
Diabetes
Pancreatitis
Gastrointestinal issues
Stress
Weight problems
Painful joints
Aging issues
Even those with finicky appetites.
Check out our website for a retail location nearest you, or contact us directly to order or for further information. www.westcoastcaninelife.com info@westcoastcaninelife.com or phone: 250-598-8370 West Coast Canine Life® Ltd. supports the Smiling Blue Skies ® Cancer Fund, part of the University of Guelph's Veterinary College and Teaching Hospital Pet Trust, supporting cancer treatment and research and the building of Canada's first cancer centre for companion animals. Please visit www.smilingblueskies.com