Billie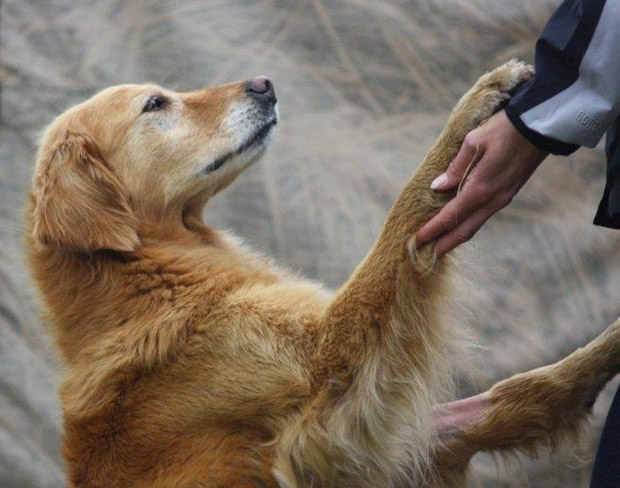 FTCH AFTCH MOTCH Tanbark's Orange Crush, OBHF, FDHF, MH Am. OTCH, UDX, OM1, OBHF***
Just had to share this photo of Billie and I that was taken the weekend after her cancer diagnosis.
It was the weekend that Raisin stepped in and ran as Master test dog for her, which sent me back into training Raisin for her Master Hunter title and achieving her title it only 2 months later (6 passes in 6 tests) This was a very special and emotional weekend for Billie and I, and this picture says so much. It was taken in the holding blind as she and I were waiting to demo the quartering test, something she was still physically able to do, and she loved it!
It is almost 1 year since she has been gone and I continue to miss her tremendously.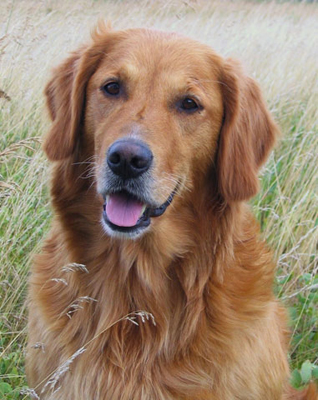 June 13/02 – August 7/12 "Billie"
On July 7th, 2012 Billie earned a 199.5 in Open B, exactly one month later, on August 7th, 2012 she passed away from stage 4 Lympohma. It still doesn't seem this could be possible.
Billie did it all, from Field Trial Champion, Master Hunter and Obedience Trial Champion, something no other Golden bitch has ever done. She worked from her heart and she was a sweet, kind, soul.
She went out of her way to ensure that she made each person she met feel special. the picture above in the header is my all time favorite pictures of Billie. Her eyes burn a hole thru my heart and it captures perfectly her beauty and softness.
The picture to the right is one taken only a few days after her diagnosis.
Billie, we all miss you so much. Run free my girl, you'll find Boomer waiting for you.
Billie was a very pretty girl with a full light colored ruff, pants, and flowing tail. She stands 21″ high and weights 61 lbs.  She was a very friendly, yet loyal golden retriever, whom loved to cuddle and smile.
Billie wins the Open BC Amateur trial July 1, 2005

Billie Qualified to run US Special and Limited Stakes

Billie completes the 8th series at Cdn Open National 2006

Billie has earned 4 perfect 200 scores

November 18, 2006 – Billie completes US OTCH title 

Billie completes FTCH AFTCH titles Sept 2, 2007

Billie is the #1 US Open field golden female for 2007

May 3, 08 – Billie completes MOTCH title

Billie has been Invited to the 2008 AKC National Obedience Invitational    

Billie qualified to attend the 2009 AKC National Obedience Championships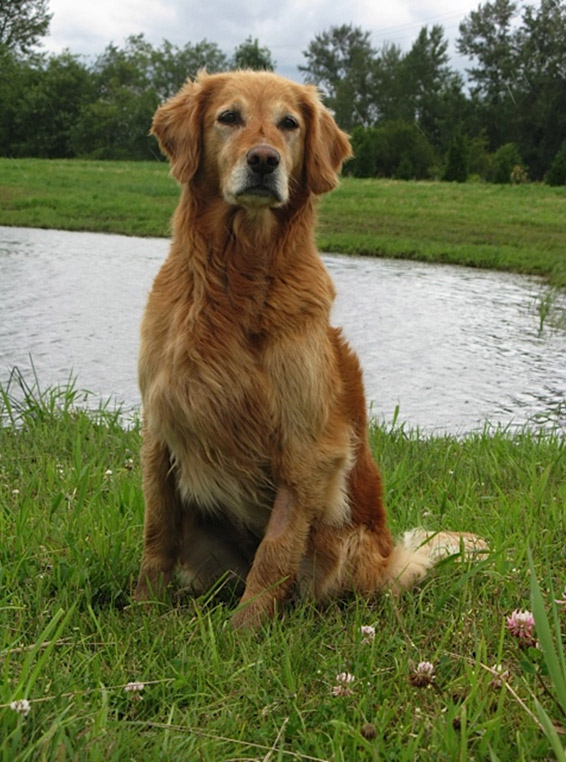 Billie's Obedience Trial Results
Date
Club
Level
Placement
July 7, 12
Timberland, Wa
Open B
199.5
May 27, 12
Greater Victoria Obedience Club Trials
Open B
199.5 – HIT
May 26, 12
Greater Victoria Obedience Club Trials
Open B
198
April 1, 12
WSOTC, WA
Open B – 198
HIT
Mar 31,12
WSOTC, WA
Open B
199.5 tied HIT
Nov. 20, 11
Nanaimo Kennel Club
Open B
198
Nov. 19, 11
Nanaimo Kennel Club
Open B
198.5 HIT
Nov. 6, 11
Chuckanut trials, WA
Open B
199.5 – HIT
Nov. 5, 11
Chuckanut trials, WA
Open B
197.5 – HIT
Oct. 8, 11
Fraser Valley Dog Fanciers
Open B
Perfect 200 score
Aug. 21, 11
Olympic Kennel Club, WA
Open B
198.5
Aug. 20,11
Olympic Kennel Club, WA
Open B
197.5
July 24, 11
Portland Kennel Club, OR
Open B
199.5 – HIT
May 29, 11
Spokane, WA
Open B
198.5
May 28, 11
Spokane, WA
Open B
198.5
May 27, 11
Spokane, WA
Open B
197 – HIT

Apr 30, 11

OVOTC

Open B

198 – HIT

May 1, 11

OVOTC

Open B

200 score – HIT

Apr. 3, 11
WSOTC, WA
Open B
197
Apr. 2, 11
WSOTC, WA
Open B
198 – HIT
Mar. 19, 11
GRCBC, BC
Open B
198.5 – HIT
Jan. 16, 11
Tacoma, WA
Open B
199 – HIT
Nov 7, 10
Chuckanut, WA
Open B
197
Nov. 6, 10
Chuckanut, WA
Open B
198 – HIT
Oct. 31, 10
LMDF
Open B
199
Oct. 30, 10
LMDF
Open B
199
Oct. 29, 10
LMDF
Open B
198
Oct 10, 10
Fraser Valley
Open B
198.5
Oct 9, 10
Fraser Valley
Open B
198.5
Sept 30, 10
GRCA Speciality
Open B
197.5
July 25,10
Portland Kennel Club
Open B
198
July 17, 10
Sporting Dog Show, BC
Open B
198
May 30, 10
Spokane, WA
Open B
198 – HIT
May 29, 10
Spokane, WA
Open B
199.5 – HIT
May 28, 10
Inland Empire, WA
Open B
197.5 – HIT
April 3, 10
WSOTC, WA
Open B
198.5 HIT
Mar 20, 10
Peninsula DF, WA
Open B
199 – HIT
Mar. 20, 10
GRCBC trials
Open B
198.5
Nov. 15, 09
Nanaimo
Open B
198 – HIT
Nov 14, 09
Nanaimo
Open B
198.5 – HIT
Nov. 1, 09
Lower Mainland shows
Open B
199 – HIC
Oct 30, 09
Lower Mainland shows
Open B
197
Oct 11, 09
Fraser Valley
Open B
199 HIT
May 24, 09
Spokane, WA
Open B
199 HIT
May 23, 09
Spokane, WA
Open B
199 HIC
May 22, 09
Spokane, WA
Open B
197.5 HIT
May 22, 09
Spokane, WA
Utilty B
196 HC
Jan. 18, 09
Portland, OR
Utility B
197.5 – HC
Jan. 18, 09
Portland, OR
Open B
199 – HIT
Jan. 16, 09
Portland, OR
Utility B
197 – HC
Jan. 16, 09
Portland, OR
Open B
198 – HIT
Jan. 11, 09
Puyallup, WA
Utility B
197 HC
Jan. 11, 09
Puyallup, WA
Open B
199 HIT
Jan. 10, 09
Puyallup, WA
Open B
198
Nov. 16, 08
Nanaimo KC
Open B
PERFECT 200 SCORE
Sept. 7, 08
FPOTC
Open B
199 – HIT
Sept. 6, 08
FPOTC
Open B
198 – HIT
Aug 17, 08
Olympic KC
Open B
198.5 – HIT
May 25, 08
Spokane KC, WA
Open B
PERFECT 200 SCORE
May 24, 08
Spokane KC , WA
Open B
199 – HIT
May 23, 08
Inland Empire, WA
Open B
198.5 – HIT
May 4, 08
OVOTC
Open B
199
COMPLETES MOTCH TITLE
May 3, 08
OVOTC
Utility
196
May 3, 08
OVOTC
Open B
199 – HIT
Mar 30, 08
WSOTC, WA
Open B
199.5 – HIT
Mar 29, 08
WSOTC, WA
Open B
199 – HIT
Mar 29, 08
WSOTC, WA
Utility B
198.5 – High Combined
Mar 16, 08
GRCBC Trials
Open B
199.5 – HIT
Mar 15, 08
GRCBC Trials
Open B
199 – HIT
Jan. 13, 08
Puyallup, WA
Open B
PERFECT 200 – HIT
Jan, 13, 08
Puyallup, WA
Utility B
198 HC
Jan. 11, 08
Tacoma KC
Utility B
198
Billie's Field Trial Results
Date
Club
Level
Placement
Sept. 20, 09
GRCBC Test
Master Hunter
Pass
Jun 27, 09
Logan Lake Ret. Club
Amateur
4th
May 16, 09
Spokane, WA
Open
Jam
Feb 20, 09
Sacramento Trial, Calif
Open
Jam
Aug 2, 08
NW Trial, WA
Amateur
Jam
June 14, 08
Logan Lake Ret. Club
Amateur
2nd
April 19, 08
BC Gun Dog
Amateur
Jam
Sept 18, 07
GRCA Speciality, WA
Amateur
2nd
Sept 17, 07
GRCA Speciality, WA
Open
2nd
COMPLETES FTCH & AFTCH TITLES
Sept 2,07
A.R.C.A , AB
Open
2nd
Aug 30,07
Red Deer, AB
Open
RJam
Apr. 29, 07
BC Gun Trial
Open
4th
Apr. 29, 07
BC Gun Trial
Amateur
RJam
Feb. 16, 07
Saghens, CA
Amateur
Jam
Billie's Pedigree
Parents
Grandparents
Great-Grandparents
Great-Great-Grandparents
AFC FC Glenhaven Htrs Mn Baronet OS/FDHF
***
AFC Glenhaven Devil's Advocate UDT MH WCX
OS/FDHF
Smoke' N Red Apache*** WCX OS
AFC Yankee's Smoke N Red Devil OS
Tartan Golden Molly
OTCH Meadowpond Especial One UDT SH WCX
OD/OBHF
AM CAN CH Laurell's Especial Jason UDT WC OS/SDHF
AM CAN CH Chafa Honeybun of Jungold CDX TD WC OD
Hunter's Moon Tam O'Shanter**
Wraith's Duncan MH OS
NAFC FC Topbrass Cotton OS/FDHF
Emberainn Lady Nell CD OD
Hunter's Moon Madcap OD ***
FC AFC Windbreakers Mighty Mo OS/FDHF
Meadowpond Scotch Mist CD TD WC OD
OTCH Tanbarks Somethings Burning UDX
FTCH AFTCH Cedarpond Brasador Skywalker
FTCH AFTCH Shurmark's Split Decision
FTCH AFTCH Mioak's Shake 'n Jake
Sun Fire Sure Mark Tess ***
NAFTCH FTCH Brasdor's Razzl Dazzl
AFC Yankee's Smoke' n Red Devil
FC Windbreaker's Razzmatazz
Tanbark's Comin Around Again OD
OTCH Locknor B-Fifty Two Bomber
OTCH Meadowpond Stardust Reggie OS OHOF
OTCH Wynwood Two Double Zera
Tanbark's Frisbee Fetcher OD
OTCH Shoreland's Five Card Draw
OTCH Duster's Amber Starburst OD OHOF