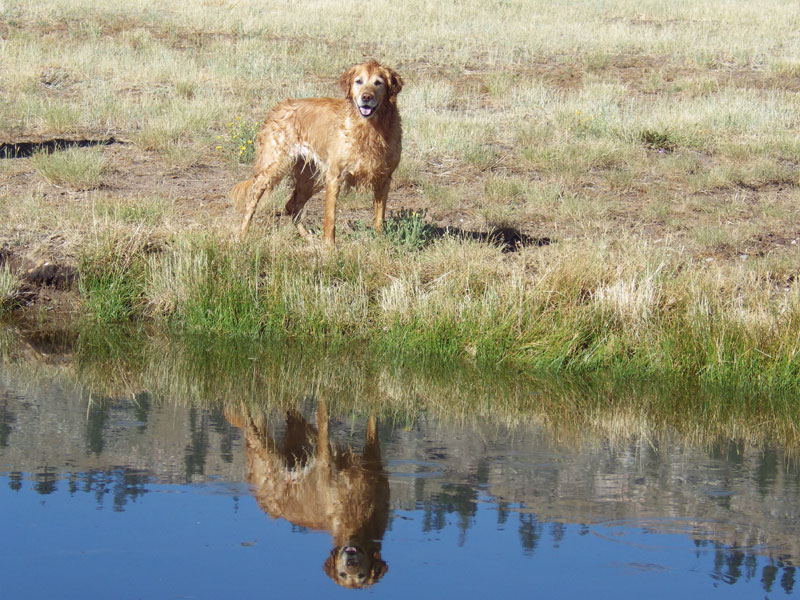 Jerry and Judy Drum recently updated us on on their Boomer daughter Ivy.
With a tear in our eye,but with great joy and gladness for all that she has done, NMH EMBERAIN IVY GOTTA GO HUNTING MH MNH MNHF GRCAHTHF RN WCX,better know as Ivy, is now retired from the AKC Hunt Test program, the Master National and the Canadian National Master.

She is 11 1/2 still fit and raring to go, but her eyes don't see as well nor do her ears hear well anymore. It was such a hard decision to retire such a wonderful performance dog when they still show the desire to work, but we have to respect her age and her health.

A beautiful puppy out of your wonderful dogs, Boomer and Butter, arriving at 7 weeks old full of spunk, desire, mischief, heart and love and taking us on a wonderful journey.

She became a Master Hunter and acquired 73 Master Passes. She qualified for nine Master Nationals and was a Finalist in 2010, 2012, 2013 and 2014.  She was inducted into the Master National Hall Of Fame and I was awarded the Women's Challenge Trophy for handling her three times at the event.

She qualified for two Canadian National Masters and was a Finalist in 2011.

She was also inducted in the Golden Retriever Club of America Hunt Test Hall Of Fame.

An avid hunter in the off season and a pleasure to see her quarter a field in chase of quail, pheasant, chuckar and sagehen in the high deserts of Nevada and California.A joy to sit by her side in a duck blind and watch her scanning the sky for ducks and hoping that she will get a retrieve if her Masters would ever shoot one. She will continue to hunt as long as she can.

Thanks to all of you for this wonderful girl.  Ivy is one in a million, so they say.

We are so blessed to have her.

The memories are sweet.
Judy and Jerry Drum
.
​