Reaching the Hunt Test Hall of Fame is a huge accomplishment and we are so proud of this Boomer daughter. It takes a huge amount of talent, drive and tenacity on the part of both the owners and the dog.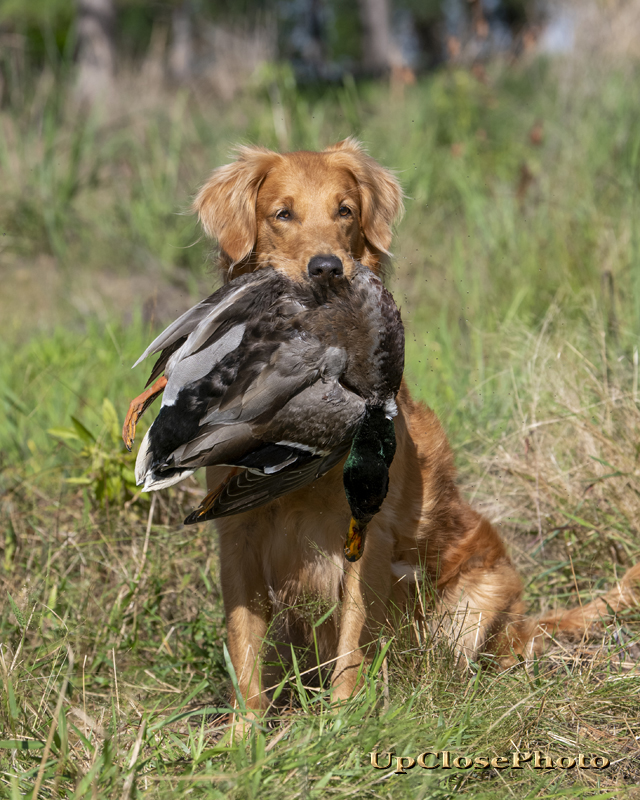 JOJO
HRCH UH Turbo Twilight Explosion CDX AD MH50 ** HTHF WCX 
Sire: FC AFC FTCH AFTCH Can OTCH TNT's Explosion Am UD FDHF OS; Can FDHF OBHF (Boomer)
Dam: HRCH UH Turbo Steam'n Twilight Dragon CDX MH75 QA2 AD HTHF WCX CCA VCX OD (Sharlie)
Whelped:  April 1, 2012
Breeder: Ron Rubrecht (Turbo Retrievers)
Owners: Ron and Pat Rubrecht
What Ron & Pat have to say about their wonderful girl.
"JoJo is the Benjamin Buttons of dogs.  Soon to be nine years old and still gets mistaken for a young dog due to lack of any gray hair. She is calm and affectionate and is our dog who we like to show off to prospective clients or passing admirers as she is quite the salesperson.  That calmness goes away when it's time to catch a frisbee or ball or when she's at the line getting ready to run a Hunt Test or a Field Trial where it's hard for her to contain her enthusiasm.  JoJo is beautiful and has a soft golden coat.  She is the best cuddler and a great bed mate.  While JoJo is aging, she is still fast, but it used to be the case that nobody in the Turbo stable could keep up or catch her.  While fast, when it is time to come inside the house, she is the slowest and like Private Winger, the soldier that is always last. She loves being outside.
JoJo comes from a successful litter of Master Hunters. Currently there are five from her litter with MH Titles and a sixth one, who is one pass away from his MH title, which will tie for the all-time Golden litter with the most Master Hunters.  This does not surprise us as JoJo's mom, Sharlie, is a MH 75.  This litter is a line breeding on Boomer, TNT's Explosion.
JoJo has been invited to the Master National Invitational six years in a row and qualified again for 2020/2021.  However, she has only gone once, as the GR National Specialty usually coincides with the Invitational and takes priority.
JoJo is everything and more that we could ask for.  We are so proud of our JoJo, our second GR Hunt Test Hall of Fame qualifier."