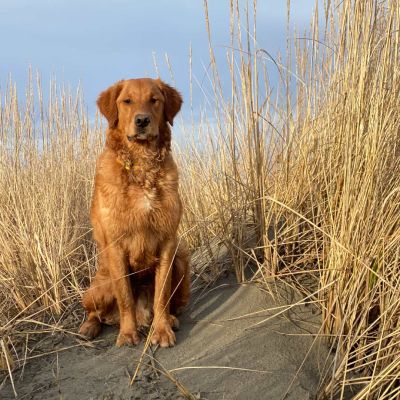 July 18, 22 – Meet CATCH
he had a 5 hr plane ride home, underground train ride, shuttle bus ride, hotel overnight and then 3 hr drive home the next day. He was 100% amazing! I credit the breeders for giving this puppy so much enrichment every single day in the way of interactive toys, swings, things to climb over and under, bottle pool, car rides, lots of outside adventures, lots of different sounds, noises, music etc. All this played into him not being at all concerned about his big adventure to the outside world. I was more stressed about the travelling than he was lol!
---
Aug. 5, 22  -Catch is from working golden retriever lines, bred by Ammo Goldens Nichole DeBernardi & Brian Flotz of Nashville, TN. At time of this writing Catch is just 10 weeks old so I will be doing updates as the months go on. He is a lovely, confident puppy. Below I would like to share with you some pictures of young Catch and
a video of when he was 9 weeks old learning some obedience skills.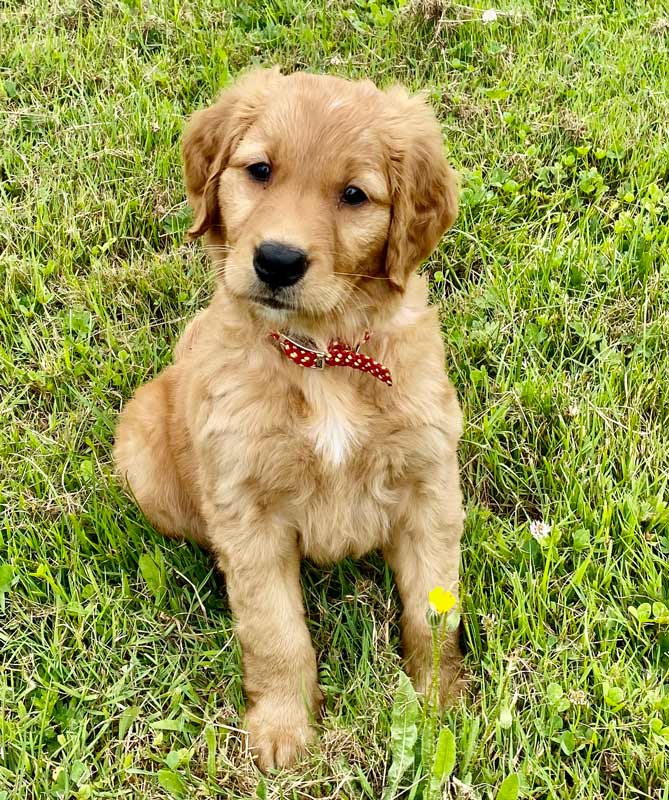 Ammo's Catching Sparks
Catch's Pedigree
Parents
Grandparents
Great-Grandparents
MACH ADCH Game On Heartlight Hankerin' For Somethin' Special JH MXS MJS MXF T2B2 WC ADHF CCA TM MAD SAM RM SM SACH JM GM RATO
Gris-Gris Perfect Cajun Cadence AX AXJ OF AD TMB SM
MACH6 Shoreland Leave'M In The Dust MXC2 MJC2 MXP MJP ADHF PADHF MAD TM-B SM GM JM OS
MACH Gris-Gris Gumbo Ya Ya UD MXG MJS MXP MJP MXF OD ADHF PADHF
ADCH Trifecta's Betcha Can AX MXJ MXP XF MAD RM GM
OTCH Tanbark's True Grit UDX2 OS OBHF
Hideaway's Bold N Brilliant CDX AX AXJ OD
Wynwood's Mind Your Own Biscuits JH AX MXJ VC CCA
FC AFC Glenhaven HTRS MN Baronet MH OS FDHF
AFC Glenhaven Devil's Advocate UDT MH WCX OS FDHF
Hunters Moon Tam O Shanter ** OD
Greenmeadow Captain's Kate MH WC OD CCA
Choctaw's Yukon Copper Penny MH MNH4 WCX ** OS HTHF
Greenmeadow's Over The Limit