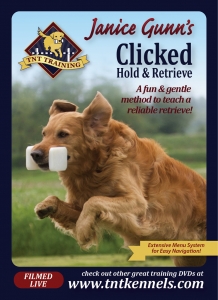 This video shows a few of my students that have followed my clicked hold and retrieve program. They have done an excellent job ensuring their dogs do not mouth the dumbbell and all the dogs are now retrieving. This clip shows some proofing steps that we are implementing to ensure the dogs maintain a dedicated retrieve. This clip will give you some ideas for training your own dog too! Enjoy!
For a Limited Time Only if you order the Janices' newest DVD Clicked Hold & Retreive we will ship for Free. Learn in the comfort of your own home on your own day to day schedule. This DVD is composed of real time training sessions to help you and your K9 achieve a solid and committed Clicked Hold & Retrieve.
Order this by July 18, 2015 and you will save $ 6.99 CAD or $ 8.99 US !!
Order CLICKED HOLD & RETRIEVE here