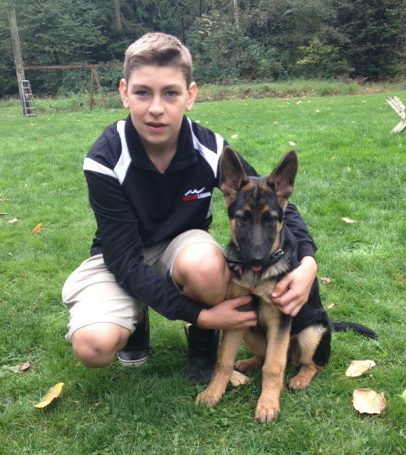 Koda is a 15-week-old female German Shepard puppy. When I met Koda, she was an early birthday present that I had been asking for since our last dog had passed. She was the cutest little fuzz ball I had ever seen. Finding Koda's name took a bit of research but it came to us one night as we were watching a Disney movie called Brother Bear. The smallest bear was named Koda. This name stuck with my family and I because it is strong name. This was important because she is a German Shepard as well.
When my mom committed to give me a puppy she wanted Koda to go straight to puppy training. That is where we crossed paths with Jane Eskuri. We took her puppy Kindergarten class as soon as possible. I have to admit the first class Koda was by far the most vocal but the next few classes she was much quieter and obedient. Koda spends almost all of her time off-leash at home exploring our acreage so walking on a leash in public was so stressful only a dog owner can know the feeling. Loose-leash walking has been the biggest difficulty for us but with diligence and the help of Jane, Koda has improved immensely.
Koda is an avid fetcher and extremely energetic. She is already a faster runner than me. We are searching for future jobs for her and considering agility and search and rescue. I am so thankful that I have been blessed with a beautiful dog like Koda.