Gunner
NFTCH AFTCH FC AFC TNT's MR. PEABODY PRAIREMARSH MH National Champion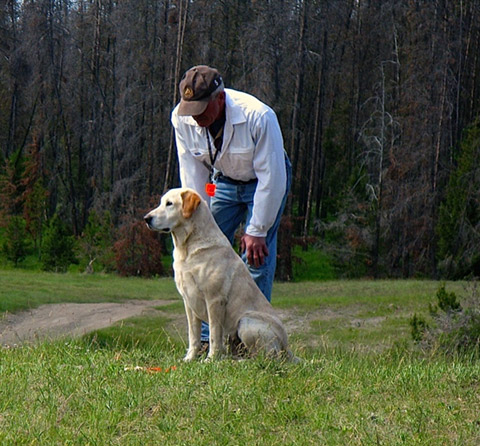 Jul 24, 2000 – Aug 12, 2012
Gunner was a National Field Champion, Multi-National Finalist, & US Double Header Winner. He made all of John's dreams come true.
He was a noble dog with a sweet, kind soul. I told him before he left us that Billie would be waiting for him at heaven's gate and that they would be reunited with Wiley, Echo and Boomer, and all be together again.
They could set up any type of field tests they wanted and even break on birds if they choose to. Run free Gunnie, and keep the others safe.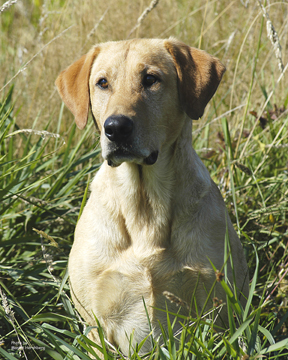 Gunner is CNM Cleared, excellent OFA rated hips, normal OFA rated elbows, CERF cleared eyes and OFA heart clearance. His pups are still quite young and we are hoping they will start to enter field trials and hunt tests this Spring. Gunnie is a very handsome dog with a solid & athletic build. He stands 24″ high and weights 78 lbs.
He is an easy-going dog whom is very affectionate. He has no nervous energy and enjoys being a house dog. In the field he is an excellent marking dog whom rarely puts on a hunt. He has the uncanny ability to run straight lines. He is hard driving on his marks, and a methodical, thinking dog on his blinds.
He is an excellent hunting dog, he somehow knows where those cripples are even if he has not seen them land, it is truly amazing. Gunner is amateur trained and handled by John & Janice.
Gunner's Honorifics
Cdn Amateur National Finalist – '03
Cdn Open National WINNER – '04
US Amateur National Finalist – '05
Cdn Open National Finalist – '06
Finalist – US Amateur National '07
Finalist Cdn Amateur National – '09
US Double Header Winner
AFC FTCH AFTCH titles earned – age 3
FC Title earned – age 4
Qualified for every Cdn National since age 2
Qualified for 7 US Nationals since age 3
US National Derby list
Gunner's Field Results
Date
Club
Level
Placement
Aug. 13, 10
Tacoma, WA
Open
3rd
June 27, 10
Logan Lake trial
Open
RJam
Mar 20, 10
Tacoma, WA
Open
Jam
Sept 12, 09
Williamette, OR
Open
4th
FINALIST AT THE CDN AMATEUR NATIONAL 2009
Jun 28, 09
Logan Lake Ret. Club
Open
3rd
Jun 27, 09
Logan Lake Ret. Club
Amateur
3rd
May 16, 09
Spokane, WA
Open
Jam
Apr 18, 09
BC Gun Field trial
Open
1st
Mar 13, 09
SE WA
Amateur
3rd
Aug 2, 08
NW Trial
Open
Jam
July 25, 08
Puget Sound, WA
Open
Jam
May 11, 08
BC Lab Club Trial
Open
3rd
April 19, 08
BC Gun Dog
Amateur
1st
Mar 21, 08
Tacoma, WA
Open
Sept 29, 07
Spokane Ret. Club, WA
Amateur
1st
Aug. 30, 07
Red Deer, AB
Open
2nd
Aug 11, 07
Tacoma, WA
Amateur
Jam
July 28, 07
Puget Sound, WA
Open
2nd
FINALIST US Amateur National 2007
Feb. 23, 07
Sacramento, CA
Open
2nd
Feb. 23, 07
Sacramento, CA
Amateur
>1st
Sept. 23, 06
Oregon Ret. Club
Amateur
4th
Sept. 22, 06
Oregon Ret. Club
Open
RJam
Sept. 16, 06
Willamette Valley, OR
Amateur
3rd
Sept. 15, 06
Willamette Valley, OR
Open
Jam
July 28, 06
Puget Sound, WA
Open
RJam
GUNNER QUALIFIES FOR THE US AMATEUR NATIONAL !!!GUNNER IS A FINALIST IN 2006 CDN OPEN NATIONAL

May 26, 06

West. Montana

Amateur

1st

May 19, 06
Spokane, WA
Amateur
4th
Feb. 24, 06
Sac Valley, Calif
>Amateur
3rd
Feb. 24, 06
Sac Valley, Calif
Open
4th
Feb 17, 06
Sagehens, Calif
Amateur
3 rd
July 2, 05
BC Amateur Trial, BC
Amateur
2nd
2005 US AMATEUR NATIONAL FINALIST – Minnesota
May 21, 05
Great Salt Lake, UT
Open
Jam
May 14, 05
Snake River, ID
Open
RJam
April 3, 05
BC Gun Dog Trial, BC
Open
4th
April 2, 05
BC Gun Dog Trial, BC
Amateur
1st
Feb 26, 05
Sacramento, CA
Amateur
1st
DOUBLE HEADER WINNER
Feb 25, 05
Sacramento, CA
Open
1st
Feb. 11, 04
Lassen Ret. Club, Calif
Open
4th
Feb 4-6-05
San Jose, CA
Amateur
Jam
Oct. 17,.04
Calif.S Coast, CA
Amateur
4th
Qualifies for 2004 US Open National, Texas
Sept.19-25, 04
Cdn Open NationalRetriever Championship
WINNER
Gunner's Pedigree
Parents
Grandparents
Great-Grandparents
Great-Great-Grandparents
2X NAFC – FC 2X CNAFC
Ebonstar Lean MacOFA LR-46627GCERF LR-6972/94-46

CNFC-CNAFCWaldorf's High Tech
CFCRascal's Super Spud
NAFC-FC Ray's Rascal
Siron's Super Snooper
Itch's Flying Tiger
FC-AFC Itchin To Go
Thor's Tiger Lillie
Ebonaceae Princess
Trieven EL Conquistador
FC-AFC-CFC Trieven Thunderhead
Trieven High Speed
Snookum's Sky Raider
CFC-CAFC Virdon's Tuktayaktuk
Wilkie's Cinderella Liberty
FTCH AFTCH – MHR
Coldcreek's Kayla To GoOFA LR84968FEYES Clear
FC-AFCWilderness Harley To Go
FC-AFCItchin To Go
FC-AFC Air Express
Stillwater Peggy
AFCBlack Gold's Candlewood Kate
NAFC-FC River Oaks Rascal
FC-AFC Candlewood's Nellie-B-Good
Coldcreek Catapult Kate
NFC-NAFC-FCCandlewood's Super Tanker
NFC-AFC San Joaquin Honcho
Candlewood's Delta Dash
CNFA-FC-AFCBig River Bonnie Amie
FC-AFC Ironwood Tarnation
FC-AFC Big River Ruffian