Indy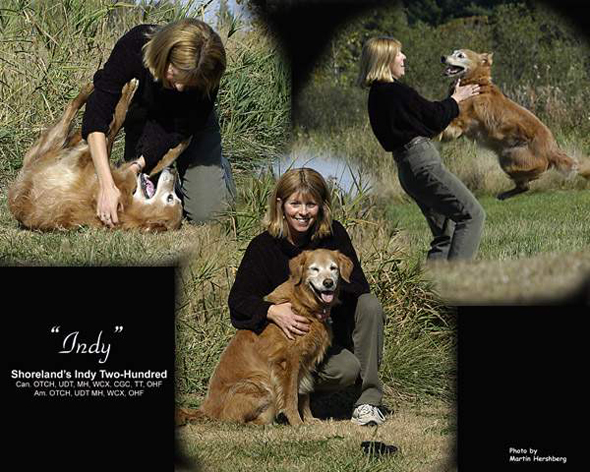 Am. OTCH SHORELAND'S INDY TWO-HUNDRED Can. OTCH, UDT, MH, WCX, CGC, TT, OHF, Am. UDT, MH, WCX, OHF
March 1, 1993 – May 31, 2007
Indy was a very vibrant 14 year old.  Running, playing and swimming the day before she died. She was taken from us very suddenly by acute pancreatitis.
We miss her everyday.
She was an integral part of our lives and changed the course of my life, something I will always be grateful for.
Godspeed Indy, we love you.
John & Janice
Memories of Indy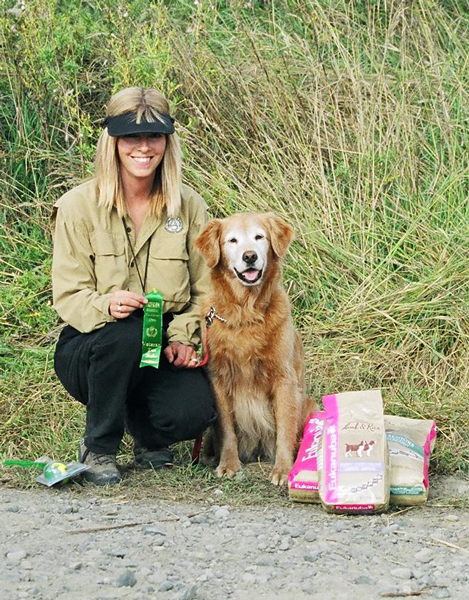 "Indy" is an INCREDIBLE DOG! She has earned more titles than I ever dreamed possible. She is an Obedience Trial Champion in both Canada and the United States, as well as earning both Master Hunter and Tracking Dog titles. She has completed 30 performance titles to date! She is THE most titled Golden Retriever in Canada and possibly in the United States as well. She has earned multi High-In-Trials and has scored a 199.5 one weekend and a Master Hunter leg the following weekend. There was never a task that Indy did not want to take on . She has earned perfect 200 obedience scores in both countries. Indy is truly my soul-mate, and I am hers.
Indy has been exclusively trained and trialed by Janice. John helped us train towards our Master title, he taught me how to become a proficient handler and to get the most out of my dog. This training was quite a feat for Indy, she is not from field lines and I believe a lot of the work came from her heart and strong desire to please.
I thank AnneMarie Silverton, my obedience trainer, for the past eleven years of teaching me and my dogs, which include a Dalmatian, 3 Golden Retrievers and one each of Black and Yellow Labrador Retrievers.