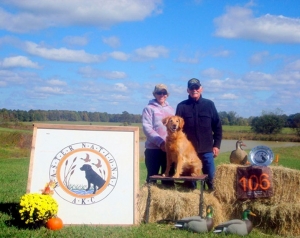 Boomer daughter, Ivy (registered Name: NMH Emberain Ivy Gotta Go Hunting MH RN WCX) recently qualified for the Master National which was held in October in Demopolis, Alabama. The grounds were spectacular and specifically developed for dog training and trials and the envy of all field trial and hunt test enthusiasts. The tests were some of the hardest we had ever encountered at a National Event, but Ivy ran a great trial while handled by Judy. She has now passed three Nationals in a row. The first Master National was held in Corning, CA in 2010. The second was the Canadian National Master held in Vancouver Island, BC in 2011 and the third Master National held in Demopolis, Alabama in 2012.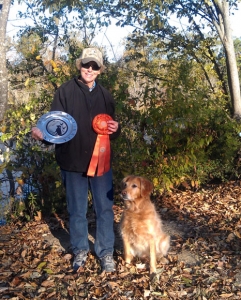 She is completely amateur handled and trained and has acquired 51 Master Hunter passes. In the off season, she is also an avid hunter.
A well bred dog, thanks to the Gunn's and Ryska's, and doing what Golden's do best.
Ivy was bred by Edwina and Ed Ryska and is out of  Boomer (FC AFC FTCH AFTCH Can OTCH TNT'S EXPLOSION Am UD FDHF OS; FDHF OBHF) and  Butter (Emberain All Buttered Up CDX JH MX MXJ WC OD).  she is owned, trained and loved by Judy and Jerry Drum.