Pounce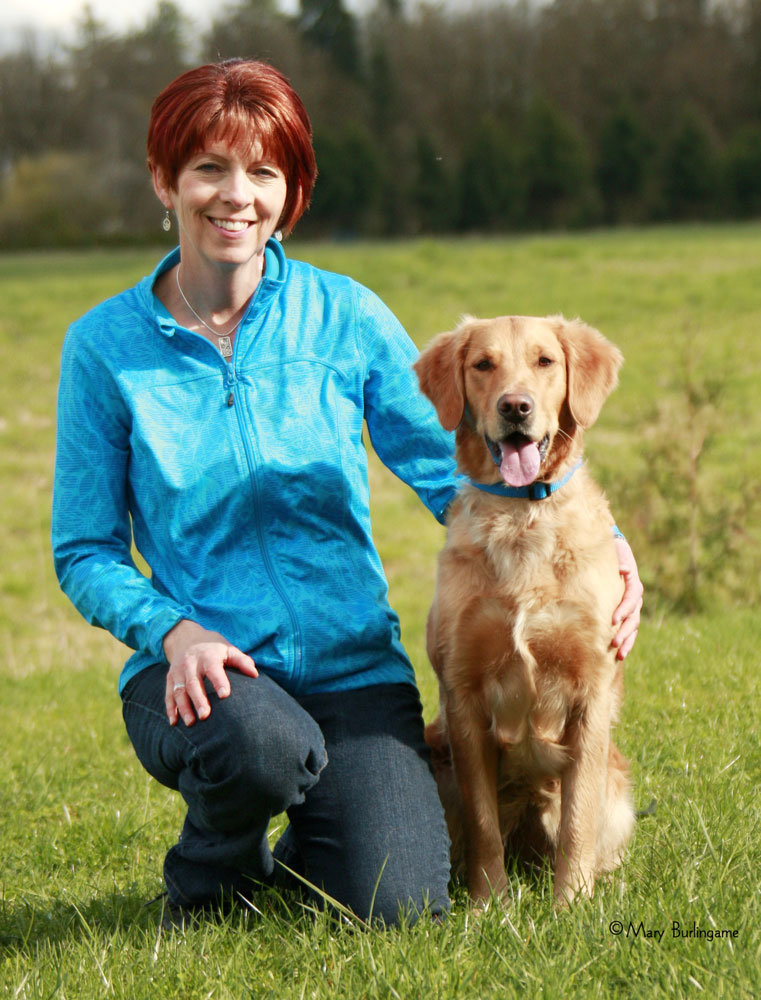 MOTCH TNT's Spring it On, UD, GMH, WCX, Am. OTCH, UDX, OM5, OBHF
Pounce came home at 7 weeks old from SkyRiver Retrievers in Washington State. Breed by Choral Greer and Tiffany Taylor.
Pounce's sire is our legendary "Boomer" FC AFC FTCH AFTCH OTCH TNT's Explosion, WCX and her mom is Journey, whose pedigree you will see is a very special and unique one. We are really excited to have Pounce join our team of talented TNT Retrievers.
Pounce is a very pretty, active, curious, and sweet puppy. Janice picked Pounce from a frozen semen bred litter that produced 1 male and 5 females. Journey and Boomer have made some beautiful puppies and the future belongs to Pounce!
Pounce earned her Junior Hunter title on June 1, 2014, at one year of age.     Sept14/14 she completed her Senior Hunter title! On April 24, 2015, Pounce earned her first MASTER Hunter leg, and on April 25th, 2015 she competed in Novice B and earned a High In Trial with a 199.   She now has completed her Grand Master title, and UD in Canada and her UD, OM1 title in the USA.
She is training in competition obedience with Janice.  She is eager to learn and catches on to new concepts quickly.  She has a kind and gentle demeanor and is a well-behaved house dog.  However, when she is out in the field, she runs like the wind, and hardly ever stops to catch her breath.  She has taken after her dad Boomer and loves the water.  Like him, she will swim just for the fun of it both in the summer and on cold winter days.  She enjoys practicing her water launching when hanging out at the ponds.
Pounce's Pedigree
Parents
Grandparents
Great-Grandparents
Great-Great-Grandparents
FC AFC FTCH AFTCH Cdn OTCH TNT's Explosion, FDHF, OHF, Am UD, FDHF OS
Wraith's Duncan MH***(OS)
NAFC-FC Topbrass Cotton( OS/FDHF )
AFC HolwayBarty ( OS )
CH. Sunstream Gypsy ofTopbrass
Emberain Lady Nell CD***( OD )
AFC Yankee's Smoke'N RedDevil ( OS )
Splashdown Emberain Aubrey UD.MH ***
Mo's Fartogo Speedy Peach  JH***WCX
FC-AFC Windbreakers MightyMo ( OS/FDHF )
AFC Yankee's Smoke'N RedDevil (OS)
FC Windbreaker Razzmatazz
HR CH.Wasatch's DesertJasmine MH ( OD )
FC-AFC Tangelo's SideKick (OS/FDHF)
Windbreakers Desert Dust ***
SkyRiver's T-Pines Adventure SH
Goldenloch's Run'N Crockett MH WCX ***
High Times Run'n The Roost UD MH WCX *** OS
OTCH Tanbark's Solar Eclipse UDX JH WC OBHF OS Can. CD
High Times Rollin Thunder UD MH WCX OD
Goldenloch Wind On The Water JH
OTCH MACH Sunfire's Undeniable VCD3 UDX RAE TDX MH MXC MJB WCX OBHF ADHF ** OS
Belvedere Blast Of Dynamite MH WCX OD
HRCH Gleen Mhor's Denmark Flurry MH WCX RN CCA VC
DK.BR.CH Clockburn Clooneen
F.T.W Greenfoot Rum
F.T.W Clockburn Commotion
Endrickbank Charmer
Eng. FT. CH. Rossmhor of Clancallum
F.T.W Endrickbank Lass