And… Swimmer's Tail Didn't Slow Mighty Down…. Much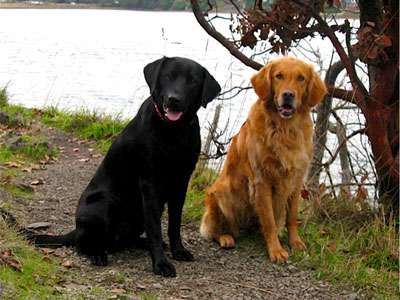 Mighty, Raisin and Janice ventured to Nanaimo this weekend to compete in the NKC Obedience Trials. OTCH MOTCH TNT's Run Raisin, MH, UDX, MO2 – earned a 200 score on Saturday and 199.5 on Sunday – earning two HIT's. TNT's Mighty Man, MH earned 2 Novice B legs with one HIT.
On Friday we visited Piper's Lagoon, which is where this picture was taken. Both dogs decided to go for a dip in the ocean. Unfortunately Mighty got a bad case of Cold Tail/Swimmers Tail, which can be quite painful. He was still in good spirits over the weekend and was able to sit, but could not do so straight, and sometimes had to adjust after he sat. Fortunately Raisin's tail did not have the same outcome as Mighty's!
What is Swimmer's Tail?
Limber tail, cold water tail, or swimmer's tail, is an excruciatingly painful condition that seems to affect swimming breeds of dogs such as Labrador or Golden Retrievers. Usually the day after they have been  swimming, their tails are extremely painful, usually at the base of the tail. They will react painfully if you attempt to lift their tail, or touch them near the tail base. Often they will carry their tail tucked.
Somehow these dogs managed to strain or pull the muscles at the base of their tails. The treatment is pain medication in the form of NSAIDs (nonsteroidal anti-inflammatory drugs) such as Rimadyl and Metacam.