OTCH MOTCH TNT's Run Raisin***, MO4, MH, WCX
June 8, 2007 – Sept 16. 2014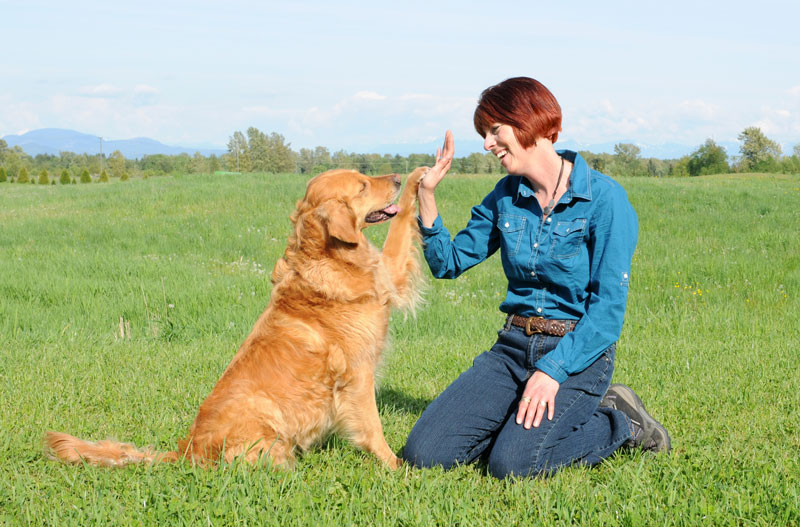 Raisin came into this world in my arms and left this world in my arms. John was also by her side. She was diagnosed with cancer just as she was turning 7 years old.
There were so many memories yet to be made. Raisin had an amazing smile that she shared with her many friends. She also was a talker, a low throaty purr that she used to communicate with us. She talked to us just as she was leaving, even under heavy sedation, it was very special. It is something I will always treasure and a memory I will never forget.
Raisin earned multiple 200 scores, was a Master Hunter and won a large Qualifying stake with me at the wheel, she gave so much. She was a master mouser and loved to swim in the pond after the frogs. She was by my side through thick and thin, she was a wonderful friend. She taught me first hand the value of being a kind, gentle and compassionate trainer, a wise & incredible gift she left me. Godspeed Raisin, you are forever in my heart and soul.
Raisin was born on June 8, 2007. She was bred by us and is a daughter of : FTCH AFTCH MOTCH Tanbark's Orange Crush, OBHF, MO1, FDHF, MH Am. OTCH, UDX, OBHF*** (Billie) and FTCH AFTCH FC AFC Cdn OTCH TNT's Explosion, UD, OS, FDHF, OBHF (Boomer).
Raisin is out of two parents whom have both made history for the Golden Retriever breed with their impressive and expansive title combinations. Truely a very unique mixture of incredibly talented parents.
Obviously Raisin has made her parents very proud. She is a highly accomplished competition obedience dog with multiple 200 scores. She earned her Master Hunter title in 6 out of 6 trials.
Raisin's Obedience Scores
Date
Trial
Level
Placement
Mar. 30, 2013
 WSOTC Trials, WA
 Open B
 PERFECT 200 – HIT/HC
Nov. 18, 2012
Nanaimo Kennel Club
Open B
199.5 HIT
Nov. 17, 2012
Nanaimo Kennel Club
Open B
Perfect 200 HIT
July 20, 12
Sporting Dog, BC
Open B
199
July 8, 2012
Timberland, Wa
Open B
198.5 – HIT
May 26, 12
Greater Victoria Obedience Club Trials
Open B
198 – HIT
Mar. 31, 12
EWSOTC, WA
Open B
197.5
Nov. 27, 11
Elsie Murray Show, BC
Utility
198
Nov 20,11
Nanaimo Kennel Club
Open B
Perfect 200 score
Nov. 19, 11
Nanaimo Kennel Club
Utility
198.5 HIT
Nov. 6, 11
Chuckanut Trials, Wa
Open B
199
Oct. 9, 11
Fraser Valley Dog Fanciers
Utility
198

Sept. 11, 11

FPOTC

Open B

199 HIT

Sept. 10, 11

FPOTC

Open B

PERFECT 200 – HIT

Sept. 10, 11
FPOTC
Utility
198
Aug. 20,11
Olympic Kennel Club, WA
Open B
197.5
Aug. 19,11
Evergreen Golden Ret. Club, WA
Open B
199
NEW AM UDX TITLE, AND MO2
July 23,11
Portland Kennel Club, OR
Utility B
199 – HIT
July 23,11
Portland Kennel Club, OR
Open B
High Combined
New CDN MOTCH TITLE
Jun 25, 11
Richmond Trials
Open B
198.5
Jun 25, 11
Richmond Trials
Utility
198
May 27, 11
Spokane, WA
Utility B
197
May 27, 11
Spokane, WA
Open B
High Combined
May 29, 11
Spokane, WA
Utilty B
199.5
May 29, 11
Spokane, WA
Open B
HIT & HC
Apr 30, 11
OVOTC
Utility
200 score – HIT
May 1, 11
OVOTC
Open B
199 – HIT
May 1, 11
OVOTC
Utility
198 – MOTCH leg
Apr. 3, 11
WSOTC, WA
Open B
198.5 – HIT
Mar 20, 11
GRCBC, BC
Open B
198.5 – HIT
Mar 20, 11
GRCBC, BC
Utility
196.5 – HIC
Mar 19, 11
GRCBC, BC
Open B
199 – HIT
Mar 19, 11
GRCBC, BC
Utility
196.5
NEW AM. OTCH TITLE
Jan. 22, 11
Portland Dog Fanciers
Utility B
198.5
Jan. 21, 11
Dog Fanciers of OR
Utility B
197.5
Jan. 21, 11
Dog Fanciers of OR
Open B
199 – HIT & HC
Jan. 16, 11
Puyallup, WA
Open B
198.5
Jan. 15, 11
Tacoma, WA
Open B
198
Jan. 15, 11
Tacoma, WA
Utility B
UDX Leg
Nov 7, 10
Chuckanut, WA
Open B
198.5 – HIT
Nov 6,10
Chuckanut, WA
Open B
197
Nov 6,10
Chuckanut, WA
Utility B
High Combined
Oct. 31, 10
LMDF
Open B
198.5
Oct. 30, 10
LMDF
Open B
199
Oct. 29, 10
LMDF
Open B
198.5
Oct 10, 10
Fraser Valley
Utility
197
Oct 9, 10
Fraser Valley
Utility
CDN UD TITLE
Sept. 30, 10
GRCA Speciality
Utility B
197
July 25, 10
Portland Kennel Club
Open B
197
July 25, 10
Portland Kennel Club
Utiilty B
195 UDX leg
July 24, 10
Portland Dog Obed.
Open B
197.5 UDX leg
July 24,10
Portland Dog Obed
Utility B
198 – 1st
July 17, 10
Sporting Dog Show, BC
Utility
198.5
June 13,10
Richmond, BC
Utility
First Cdn Leg!
May 30, 10
Spokane, WA
Utilty B
196.5
May 28, 10
Spokane, WA
Utility B
197.5 – UD TITLE
April 4, 10
WSOTC, WA
Utility B
193
Mar. 21, 10
Peninsula DF, WA
Utility B
FIRST LEG!
Mar. 21, 10
GRCBC trials
Open B
199.5 HIT
Mar. 20, 10
GRCBC trials
Open B
PERFECT 200 SCORE
Jan. 18, 10
Puyullup, WA
Open B
199 HIC
Jan. 17, 10
Puyallup, WA
Open B
198.5 HIT
Nov. 15, 09
Nanaimo
Open B
198 HIT
Nov. 14, 09
Nanaimo
Open B
198.5 HIT
Nov. 1, 09
Lower Mainland shows
Novice B
199.5 HIC
Oct. 30, 09
Lower Mainland shows
Novice B
198.5 HIT
Oct 11, 09
Fraser Valley
Novice B
199 HIC
Sept 5, 09
Eugene, OR
Novice B
198
Aug. 16, 09
Olympic KC, WA
Novice B
198.5 HIC
Aug 15, 09
Olympic KC, WA
Novice B
198 HIC
May 24, 09
Spokane, WA
Novice B
198 HIC
May 23, 09
Spokane, WA
Novice B
199.5 HIT
May 2, 09
OVOTC
Novice B
199.5 HIT
Mar 22, 09
GRCBC Trials
Novice B
198 – HIT
Raisin's Field Trial Results
Date
Trial
Level
Placement
 April 12, 13
Northwest Retriever Club, WA
Qualifying
1st Place
 May 5, 13
  GRCBC Hunt Test
Master Hunter
Pass
Sept. 28, 2012
BC Labrador Club
Master Hunter – Title earned!
Pass
Sept. 27, 2012
BC Labrador Club
Master Hunter
Pass
Sept 16, 2012
GRCBC Test
Master Hunter
Pass
Sept 15, 2012
GRCBC Test
Master Hunter
Pass
Sept 2, 2012
Pacific Rim Club
Master Hunter
Pass
Sept 1, 2012
Pacific Rim Club
Master Hunter
Pass
April 25, 10
Van. Island Trial
Qualifying
3rd
Senior Title Earned
Oct. 3, 09
BC Labrador Hunt Test
Senior
Pass
Sept 20, 09
GRCBC Test
Senior Hunter
Pass
Sept 19, 09
GRCBC Test
Senior Hunter
Pass
Sept. 14, 08
GRCBC Test
Senior Hunter
Pass
Sept 13, 08
GRCBC Test
Senior Hunter
Pass
Aug 8, 08
Tacoma Ret. Club
Derby
3rd
June 15, 08
Richmond FT,
Derby
3rd
May 11, 08
BC Lab Club Trial
Derby
1st
May 10, 08
Spokane Ret. Club, WA
Derby
Jam
Raisin's Pedigree
Parents
Grandparents
Great-Grandparents
Great-Great-Grandparents
FC AFC FTCH AFTCH Cdn OTCH TNT's Explosion, FDHF, OHF, Am UD, FDHF OS
Wraith's Duncan MH***(OS)
NAFC-FC Topbrass Cotton( OS/FDHF )
AFC Holway Barty ( OS )
CH. Sunstream Gypsy ofTopbrass
Emberain Lady Nell CD***( OD )
AFC Yankee's Smoke'N RedDevil ( OS )
Splashdown Emberain Aubrey UD.MH ***
Mo's Fartogo Speedy Peach  JH***WCX
FC-AFC Windbreakers MightyMo ( OS/FDHF )
AFC Yankee's Smoke'N RedDevil (OS)
FC Windbreaker Razzmatazz
HR CH.Wasatch's Desert Jasmine MH ( OD )
FC-AFC Tangelo's SideKick (OS/FDHF)
Windbreakers Desert Dust ***
FTCH AFTCH MOTCH Tanbark's Orange Crush, MH, OBHF***
AFC FC Glenhaven Htrs Mn Baronet
OS/FDHF***
AFC Glenhaven Devil's Advocate UDT MH WCXOS/FDHF
Smoke' N Red Apache*** WCX OS
OTCH Meadowpond Especial One UDT SH WCXOD/OBHF
Hunter's Moon Tam O'Shanter**
Wraith's Duncan MH OS
Hunter's Moon Madcap OD ***
OTCH Tanbarks Somethings Burning UDX
FTCH AFTCH Cedarpond Brasador Skywalker
FTCH AFTCHShurmark's Split Decision
NAFTCH FTCH Brasdor's Razzl Dazzl
Tanbark's Comin Around Again OD
OTCH Locknor B-Fifty Two Bomber
Tanbark's Frisbee Fetcher OD