Remington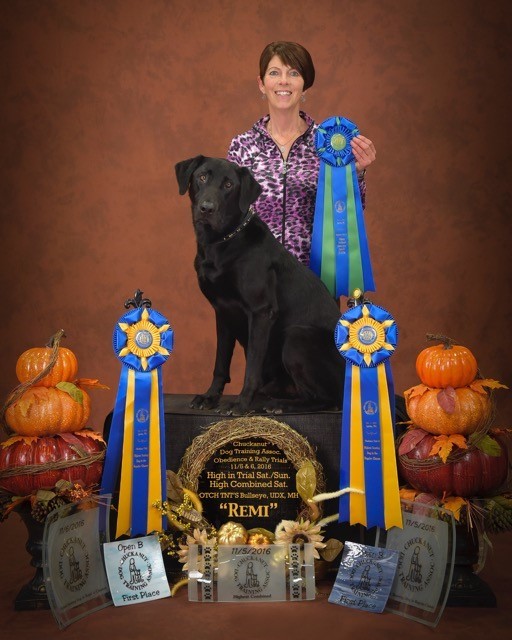 TNT's BULLSEYE, Cdn OTCH, MH Am. OTCH  OM3, UDX
Remi came to us from breeder Cheri Noble in California.  His dad is the famous "Emmitt" whom won his first field trial National at the very, very tender age of 3 years old.  We hope that Remi falls right into his dad's footsteps!  His mother Gypsy has also earned her AKC Master Hunter title.
On November 14, 2015 Remi won a 25 dog Utility B class in Washington State.  That win gave him enough points to complete his Am. OTCH (Obedience Trial Championship) at 3 years old.
Remi started his obedience career by winning Novice B at 18 months old at the Labrador National in Olympia, WA on Oct. 7 & 9 , 2013.  He earned a 198 both times in the ring earning his first High In Trial.  Only ONE year later Remi now has his Utility title in both the USA and Canada.
Remington's Video Gallery
Remington's Pedigree
Parents
Grandparents
Great-Grandparents
Great-Great-Grandparents
NFC Watermark's Running Back
NAFC FC AFC Carbon Copy of Horn Creek
FC AFC Dare To Dream
FC AFC Wilderness Harley to Go
FC AFC Fishtrap Aggie
AFC Sparkle Plenty of Horn Creek
Code Red ***
Jessi's Pursuit of Autumn Wind
FC AFC Watermark's Mardi Gras
FC AFC Ronfleaux
Bluebill Double or Nothin' ***
Del Campo Confusion
FC AFC Bayou Bend's Ebonstar Peg
2x NAFC-FC 2x NAFTCH Ebonstar Lean Mac
FC AFC Carrolls Black Velvet
Quasi's Ty Affair, Noble's Gypsy, MH
FC Justin Time Mr. Moto
2x NAFC-FC 2x NAFTCH Ebonstar Lean Mac
Waldorf's High Tech
Ebonaceae Princess WCX ***
FC Justin Time Zoe
AFC NAFC Candlewoods Super Tanker
Chena River No Surprise
High Test Black Tie Affair
NFTCH AFTCH Raindancers Dryland Drifter
Dashing Ebony Rook
Highest Dessrt Rain
Goosepits Gotta Get a Goslin SH
Jazz Can Do Honkers
Top Gun Abel Oakley