RV
FTCH AFTCH AFC Cedarpond's RV, FDHF, OS
Feb. 12, 1990 – Nov. 1, 2001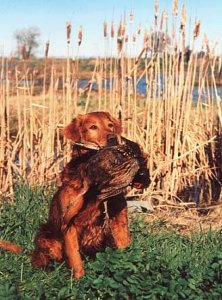 "RV" is 75 lbs. and stands 24″ high. He is hard driving in the field and is an excellent marking dog. He has a kind, gentle and social nature. He is a high energy dog, but can settle in the house with his favorite stuffed toy and be very content. "RV " is extremely close to titling his FC and AFC.
He won the OPEN at the '98 GRCA National and placed 3rd the following day in the Amateur. He also qualified for the 1999 American Amateur National. Pretty impressive stats for a dog or owners that do not live in the United States. He also qualified for the '99 Canadian Open and Amateur Nationals. "RV "is strictly  trained and trialed by owner, John. "RV "is widely used through out Canada and the US as a stud dog – Frozen Semen is available. For further information on "RV" please contact us via e-mail.
RV's offspring include multiple Master Hunter dogs, successful trial dogs, agility titled dogs, and very competitive obedience trial dogs. His daughter TNT Anya's Echo achieved back to back perfect 200 scores, his son TNT's Stanley Steamer, earned back to back first place ribbons in the Junior Stake while just one year old….both TNT dogs are owned by John and Janice Gunn.
RV's Pedigree
Parents
Grandparents
Great-Grandparents
Great-Great-Grandparents
CFC/CAFC Shurmark's Split Decision *** MH/OS
FC/AFC Mioak's Shaken'n Jake
FC/AFC Mioak's
Main Event
AFC Wildfire
of Riverview  CDX OS
Mioak's Ginger *** OS
Mioak's Kate
Duke of Maximillian
Topbrass J.C.'s Abbey
Sun Fire Sure Mark
Tess ***
AFC Wildfire of Riverview CDX OS
Riverview's Kinike Rocket
Rivervie'w Nettles
Sunfire's Dyno of
Chances R
Bonnie Brook's Motimer ***
Chances R Milady
CFC/CNAFC Brasdor's Razzl Dazzl OD (only CNFC Golden ever)
AFC Yankee's
Smoke'n Red Devil OS
FC/AFC Northbreak's
Kinike Sir Jim
Poika Of Handjem OS
Shenandoah of Stilrovin CD ***
Yankee Fluff ***
AFC Holway Barty OS
Star Babe of Handjam
FC Windbreaker's Razzmatazz
AFC Holway Barty OS
Eng. FC Holway Westhyde Zeus
Eng.FC Holway Flush of Yeo
Nutmeg's Harvestgold
Heather **
FC AFC Misty's Sungold Lad CDX
Cayenne's Nutmeg