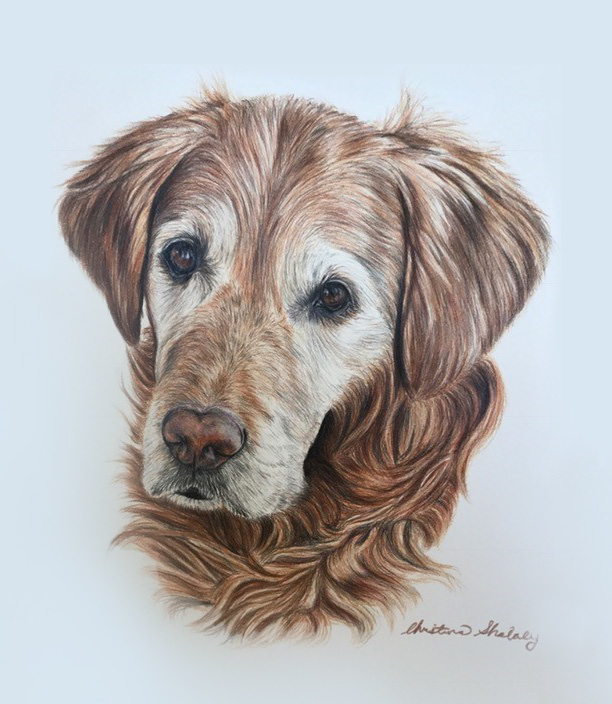 This amazing portrait of Stanley was given to us by  Lâle Aksu and her husband Matt. It was done by Christina Shalaby. It is exactly how Stanley looked right up to his final day. Beautiful expression, loving eyes, and the look of anticipation that a treat may be coming by his way any minute now, or perhaps someone is getting ready to throw him a bird. When I look at this picture I see Stanley's soul. I will cherish this picture and every day it will give us a special memory of Stanley.

FC AFC OTCH, Cdn FTCH AFTCH MOTCH TNT's Stanley Steamer,
UDX, OS, FDHF, OBHF, Cdn MH, JFTR, WCX, FDHF, ODHF

June 17, 2001 – January 7. 2017 – 15.7 years old
Last night we said our final goodbye to the "great one" a true legend for the Golden Retriever breed "Stanley". In his lifetime he achieved title combinations that no other Golden has ever done. Incredibly Stanley achieved all major titles by the age of 5 years old. Not only was he talented, he showed great desire to work and to please, a real team player. I ran Stanley through-out his derby career and he became the top derby Golden and made the National derby list. At 3 years old he won his first US field trial Open with John, and I handled him to his Cdn Open win. Stanley won about every possible GRCA year end field trophy offered, an incredible honour. He competed at numerous field trial Nationals, John was his main handler in the field while I concentrated on Stanley's competition obedience career and his Master Hunter title. Not only did he excel in the field but Stanley was a multi-200 OTCH obedience dog. Stanley was a dream come true!
He was a true gentleman in every sense. A kind, gentle soul, and he loved to entertain & flirt with the ladies both 2 and 4 legged. Stanley was the only male in the litter, bred by Chris Braswell of Brassfire Retrievers. Chris knew right from the beginning she had a special puppy, and as the original buyer had to back out, we stepped up and brought Stanley home. Somehow it was meant to be. Chris has become a close friend and strong supporter of Stanley for the past 15.7 years.
Stanley has a long list of highly accomplished progeny in the field, agility and obedience, with most recently a litter born to Heads Up Goldens, and a litter due any day with WildFire Retrievers. His legacy will live on for years to come thru the magic of frozen semen. Stanley lived every day to the fullest, up to his final day he went everywhere with us and kept up with the younger dogs on a daily basis going for walks and acting as training supervisor, always insisting a bird or two be thrown for him as well. Stanley has been with us for so long, it is difficult adjusting to him not always by our side. He had a long, full, pain free, cancer free life, for that we are very grateful.
Now it is time for him to run free with his kennel mates that are waiting to meet him.
♥♥♥ you so much Stanley!
FC AFC OTCH FTCH AFTCH MOTCH TNT's Stanley Steamer, MH, FDHF, OBHF, Am. OTCH, UDX, FDHF, OBHF, OS
WOW, what can i say about Stanley! He is an amazing dog in every way. Below you will read about what Stanley has accomplished in his lifetime, and what he is still accomplishing at 9 years of age! Most recently in September he placed 2nd in the Amateur in Idaho, which was on the way to run the GRCA National Speciality in Colorado, where he earned both an Amateur 2nd and Open Jam.
Then he came home and brushed up a little on his obedience skills, which he has been retired from for the past year so that Janice can bring along the young dogs. Well, Stanley waltzed into the Open B ring and earned a perfect 200 score!
What an incredible dog! Stanley is all heart. He is a true team player. He also has the kindest, sweetest temperment you could ever imagine. And to top it all off, he is one very handsome and structurally well put together Golden Achiever!
Stanley's Accomplishments
Multiple perfect 200 scores in the obedience ring

The only dog to achieve 4 Championship FIELD TRIAL TITLES plus Am & Can OTCH titles… all by 5 years of age!

Qualified for US Amateur National – needs 1 point for Open National

Qualified for both Open and Amateur Canadian Nationals

100% amateur trained and handled
Stanley Steamer's Field Trial Results
Date
Trial
Level
Placement
April 16, 11
Northwest Ret. Club, WA
Amateur
4th
May 14, 11
Oregon Retriever Club, OR
Amateur
2nd
Sept. 25, 10
GRCA Speciality
Amateur
2nd
Sept. 17, 10
Wood River, Idaho
Amateur
2nd
Aug. 13,10
Tacoma, WA
Open
Jam
June 12,10
PRTA, Oregon
Amateur
4th
April 17, 10
Northwest Ret. Club, WA
Open
3rd
Mar 20, 10
Tacoma, WA
Open
Jam
Feb. 19,10
Sagehens, CA
Open
Jam
Feb 12,10
Lassen, CA
Open
Rjam
Sept 20, 09
GRCBC Test
Master Hunter
Pass
Sept 18, 09
Williamette, OR
Open
Jam
Jun 28, 09
Logan Lake Ret. Club
Open
4th
Jun 27, 09
Logan Lake Ret. Club
Amateur
1st
May 16, 09
Spokane, WA
Open
Jam
April 20, 09
BC Gun
Amateur
Jam
QUALIFIED FOR THE US AMATEUR NATIONAL AND BOTH CDN NATIONALS for 2009 !!!
April 19, 09
BC Gun Dog Trial, BC
Open
4th
Mar 27-29, 09
Samish, WA
Open
Jam
Feb 20, 09
Sacramento Trial, Calif
Open
2nd
Aug. 2, 08
NW Trial, WA
Amateur
Jam
July 25, 08
Puget Sound, WA
Amateur
1st
May 10, 08
Spokane Ret. Club, WA
Amateur
Jam
STANLEY WINS THE AMATEUR STAKE 2007 GRCA NATIONAL!
Mar 21, 08
Tacoma, WA
Open
3rd
Sept 18, 07
GRCA Speciality, WA
Amateur
1st
Sept 17, 07
GRCA Speciality, WA
Open
Jam
Sept 2, 07
A.R.C.A , AB
Open
4th
Aug 25, 07
Stampede City, AB
Open
4th
Aug. 10, 07
Tacoma Club, WA
Amateur
2nd
Aug 04, 07
Northwest, WA
Amateur
4th
STANLEY WINS THE AMATEUR STAKE 2007 GRCA NATIONAL!
May 11, 07
Snake River, ID
Open
1st
May 4-6, 07
Idaho Ret. Club
Amateur
3rd
Apr.28, 07
BC Gun Trial
Amateur
1st
Apr 22, 07
Oregon Ret. Club
Amateur
2nd
Apr 7, 07
BC Amateur
Open
RJam
Apr 7, 07
BC Amateur
Open
3rd
Apr 1, 07
Samish FT, WA
Amateur
Jam
Mar 30, 07
Samish FT, WA
Open
3rd
Feb 9, 07
Lassen Trial CA
Open
RJam
COMPLETES FTCH TITLE !
Oct 1, 06
VIRC, BC
Open
1st
Aug. 6, 06
Northwest Trial, WA
Amateur
Jam
May 14, 06
Rmd Ret. Club
Amateur
3rd
May 14, 06
Rmd Ret. Club
Amateur
3rd
Apr. 30, 06
BC Gun Trial
Open
3rd
Apr.29, 06
BC Gun Trial
Amateur
Jam
April 9,06
Rmd Ret. Club, BC
Open
1st
Mar. 26,06
VIRC, BC
Amateur
3rd
Stanley Steamer Obedience Trial Results
| Date | Trial | Level | Placement |
| --- | --- | --- | --- |
| Oct. 28,10 | LMDF | Open B | PERFECT 200 – HIT |
| Oct 10, 09 | Fraser Valley | Open B | 198 |
| Oct 10, 09 | Fraser Valley | Open B | 197.5 |
| Sept 25, 09 | Mt. Cheam, BC | Open B | 199 HIT |
| Sept 25, 09 | Mt. Cheam, BC | Open B | 198 |
| May 24, 09 | Spokane, WA | Open B | 197.5 |
| May 23, 09 | Spokane, WA | Open B | 198.5 |
| May 2, 09 | OVOTC | Open B | 199 HIC |
| Jan. 10, 09 | Puyallup, WA | Open B | 198 |
| Nov. 16, 08 | Nanaimo KC | Open B | 199 – HIT |
| Nov. 15, 08 | Nanaimo KC | Open B | 199.5 – HIT |
| Sept. 7, 08 | FPOTC | Utility | 197 |
| Sept. 6, 08 | FPOTC | Open B | 199 – HIT |
| Aug 17,08 | Olympic KC, WA | Open B | 198 |
| Aug 16, 08 | Olympic KC, WA | Open B | 197 |
| May 4, 08 | OVOTC | Utility | 199.5 |
| May 4, 08 | OVOTC | Open B | 199.5 – HIT |
| May 3, 08 | OVOTC | Open B | 199.5 – HIT |
| Jan. 12, 08 | Sammamish KC | Open B | 198 – HIT |
Stanley Steamer's Pedigree
Parents
Grandparents
Great-Grandparents
Great-Great-Grandparents
FTCH – AFTCH FDHF
Cedarpond's RV OS
FTCH AFTCH
Shurmark's Split Decision
MH
FC AFC
Mioak's Shake N' Jake
FC AFC Mioak's Main Event
Mioak's Kate
Sun Fire Sure Mark Tess
AFC Wildfire of Riverview CDX, OS
Sunfire's Dyno of Chances R
FTCH NAFTCH
Brasdor's Razzl Dazzl
AFC
Yankee's Smoke N' Red Devil OS
FC AFC Northbreaks Kinike Sir Jim
Yankee Fluff
FC
Windbreakers Razzmatazz
AFC Holway Barty OS
Nutmeg's Harvestgold Heather
Brassfire's Mustang Sally
MH **, WCX, OD, MNH
GMHR Anya's Brassy Boss
MH, CD, Am/Can
WCX
FC NAFC
Topbrass Cotton
AFC Holway Barty OS
Ch Sunstream Gypsy of Topbrass
FTCH AFTCH
Osmington Anya
Whistledown Tally
Eng. FT. CH. Treunair Strathcarron Alexa
MHR Sungold Super Brass
MH, Am/Can CDX/WCX
Sungold Major Motion
AFC Yankee's Smoke n' Red Devil OS
Topbrass Kinetic Kelly
Sungold Ginger Red
FC AFC Sungold Lad's Talisman OS FDHF
Sungold Applause