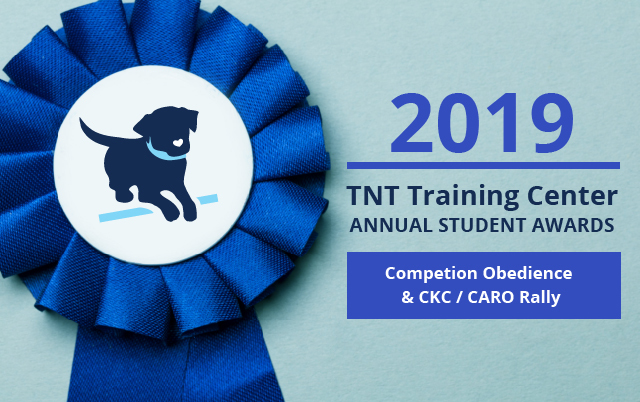 Happy New Year!
As 2019 has come to an end we now set our goals for 2020
Janice's Year End Report
Some students are training at TNT to earn titles and awards and to enjoy the thrill (or terror) of competing in the ring. Other students don't really care to compete but also enjoy the process of teaching their dog new skills and the special relationship they are building by spending this unique time together. Whichever journey you choose we are here to teach, cheer on, and support you. TNT Competition instructors are Maureen Murray, Lori Little, Lâle Aksu, Kelly Thorburn and Linda Moran. They compete with their own dogs not only in competition obedience or rally, but also other dog sports as well. Once you get the "fever" it tends to leak into other areas and becomes contagious. I know I am certainly inflicted.
TNT is welcoming a WORLD CLASS presenter for a
3 day workshop March 21-23
Kamal Fernandez is coming to us from the United Kingdom.  Working spots are wait listed but cancellations can happen so if you are interested let me know.  At this time there are a few Audit spots available but don't wait to sign up until it's sold out!  This will be a fantastic event and will give us all fresh, new and exciting ways to train our dogs using positive reinforcement.
My 14th Annual Summer Camp is scheduled for August 1-3
Working spots sold out the same day the flyer was released.  Audit spots sold out last year, so if you are thinking of coming don't wait to register.   Camp is a great way to see and learn my training techniques which are constantly changing, updating, & evolving.   Camp is a special experience for new and advanced trainers, unlike a weekend seminar, campers get to know each other and build friendships beyond the camp experience.
I had a very successful 2019 competition year in both obedience and the field.  Sparks and Pounce earned numerous High in Trial and High Combined Awards thru-out Washington and Oregon and locally as well although I show more at AKC events. They were invited to compete at the AKC Championships in Florida and also at the Westminster Dog show in New York.  It is an honor to have qualified for these events but they are too far away for me to consider attending.
Sparks at 3 years old became an AM. & Cdn OTCH, he also has his AKC UDX2 and OM3 titles and earned his AKC Master title and Cdn Grand Master title. The icing on the cake was when he became a National Master Hunter Champion, an amazing accomplishment for such a very young dog.   Sparks became a Finalist at the Master National in August.  We traveled to Alberta to compete at this week-long event.   His work was close to flawless in all series.  He is an incredibly willing and eager to please team-mate.  One of the reasons he is so eager is that I treat him with kindness and respect and keep his training fun and engaging.
A new edition in 2019 was to welcome our puppy Seven – aka Zaniri's On a Roll.  Seven was bred by Joanne & Laureen Kinney and our very own special boy Sparks is his sire.   Seven was born on May 15 and it was so much fun having a summer puppy.
In the Spring I released another video series – this one is on Heeling and includes teaching both the armband and push heeling methods as well as how to teach small dog heeling and a video on different heeling games you can play.
Your instructors can only spend so much time each lesson on heeling – the video series is a great way to enhance and advance your heeling training.  You can learn the next steps to take and continue to practise at home and thru class breaks.  The videos are very step-by-step and take you from the beginning to a finished result.   Numerous top-level trainers, presenters and championship handlers have purchased my videos world-wide.   I am very honored!  The videos are sold individually on my website store or in packages, so you can pick and choose what you want.
Thank you to all my instructors and also to Jane Eskuri for helping me with the tremendous amount of office work we have, and to Leslie Williams for our super website and all the great newsletters she helps me to put together.  Leslie has also been a business manager, promoter, friend and has helped me to grow in so many ways.   Most of you have been with TNT for a very long time, and I am blessed to have you all in both my business and my life.
I wish you all the happiness and enjoyment with your dogs in 2020.
Dog training is a wonderful journey that can become a life-long love and hobby.
Happy New Year!
Janice

Click on the instructor buttons below
to see the awards and titles earned by that instructors students
Lâle Aksu's Students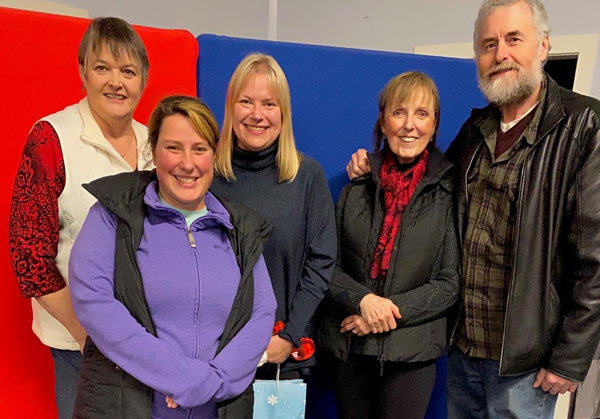 Lâle  with Dina – and Top student – Peggy Freeman and Long-time students Marilyn & Wayne Timofee
Top Student
Peggy Freeman with Dawson, Koda & Everest (All Australian Shepherds)
Dawson earned his Rally Novice title – ASCA with 2 first places and scores of 198 and 198 on two legs. His Rally Advanced title B (X) – with a High in Trial at Nationals with 3 legs 199, 199, 198 and hisASCA TD2 and his AKC TDX
Koda earned his Rally Novice – ASCA title,  Rally Advanced title (with a 2nd place at ASCA Nationals) and his ASCA TD – one of the happiest moments of my life.
Everest earned his Rally Novice ASCA title and one leg towards his ASCA Rally Advanced.
New Titles
Kirsten Robertson- Abner – Shetland Sheepdog Rally Master title and many Qualifiers for their RAE with many high in classes
Dina Popadiuk- Annie – Doberman Pinscher earned their Rally Novice, Intermediate , Advanced
Lori Little's Students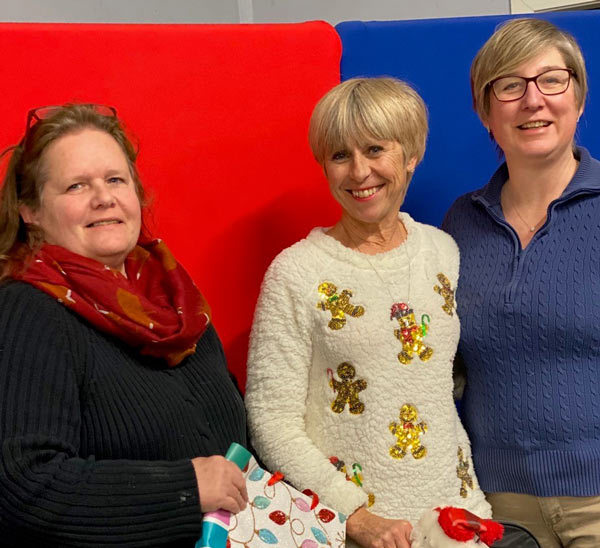 Lori with Sheena Randall Most Improved and Wendi Daschell – Top Student
Top Student
Wendi Daschell and Pippa
Most Improved Student
Sheena Randall and Matti
New Titles
Wendi Daechsel and Pippa, Belgium Shepard earned their CDX with 3 HIC scores
Kelsi Warawa and Soleil, golden retriever earned their CDI
Tobi Smith and Frankie, Leonburger earned their AKC Beginner Novice
Sheena Rendall and Matti, Belgium Malinois, earned their Rally intermediate and rally advanced titles with 11 HIC scores
Mary Philpot and Murphy, Nova Scotia Duck Toller earned their CARO Novice title and 2 legs of their advanced title. (Along with a TD and completed almost 500 hours of therapy dog work)
Peggy Freeman and Koda and Dawson, Australian Shepard's earned their first leg in novice with ASCA. These are Pegg's very first obedience legs ever.
Linda Moran's Students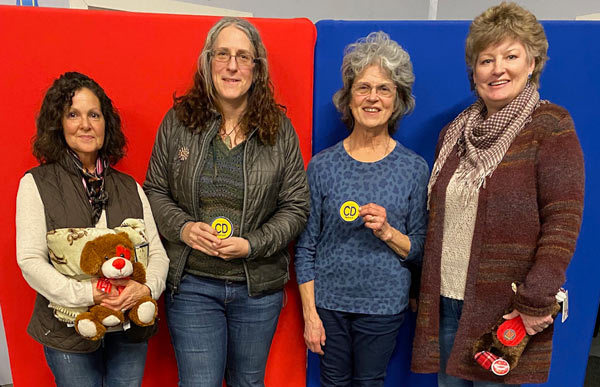 Linda with most improved student Kim Smith, Lorraine Andrusiak new CD
and Kerri Kuljis new CD
Most Improved Student
Kim Smith and Rizer (Labrador Retriever)
New Titles
Kerri Kuljis with Sybil the Corgi earned her AKC CD
Lorraine Andrusiak with Sailaway London Calling "London" -whippet earned his CKC CD with High in Class
Maureen Murray's Students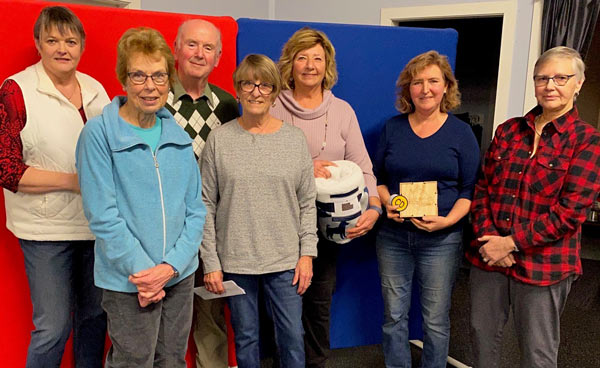 From Left to Right, Dina P – Bonnie MacLean – Steve Hall – Maureen – Joanne White – Val Beliak – Corry Van Der Ende- see below for accomplishments
Most Improved Student 
Joanne White
Joanne truly thrilled me with her handling between exercises. Joanne and her Labrador Retriever, Mica are so close to completing their CDX. Mica is a very environmentally sensitive dog and Joanne has worked hard on maintaining a connection with her and protecting her from situations she is uncomfortable in.
Most Outstanding Student
Val Beliak
Val and her Golden Retriever, Dealer achieved both their CD and CDX in 2019. Val showed true dedication in her training – she worked hard on attention and proofing before putting this high drive boy in the ring! Great handling and fun to watch; especially when he gets bouncy and Val starts sweating!!!! I know that feeling when you're sure your partner is edging toward over the top!
New Titles
Pre-CD:
Bonnie Maclean and her Golden Retriever, Ava
Corry van der Ende and her Boxer, Chip
CD:
Corry van der Ende and her Boxer, Chip
Val Beliak and her Golden Retriever, Dealer
Vicki Niederkorn and her Labrador Retriever, Chula
Dina Popadiuk and her Doberman Pinscher, Annie
CDX:
Val Beliak and her Golden Retriever, Dealer
Accomplishments in Other Disciplines and CKC Obedience Legs:
First, I would like to acknowledge a student who has been over the top dedicated throughout the year. Bonnie Norquay and her Miniature Poodle, Dickens achieved two legs on their CDX – an incredible accomplishment as they entered very few trials and frequently due to health issues had to pull from trials they were entered in. Now that 2019 and all the surgeries are behind her I know Bonnie will finish that third leg quickly. She almost gave me and her fellow students a heart attack worrying about her! Not often I say I don't think it's a good idea to enter!!!!! Well done, Bonnie! Bonnie is by far the most inspirational handler for 2019.
Also, a special congratulations to Bonnie Maclean and her Golden Retriever, Ava for getting their PCD and the first leg on their CD. Very well done as Bonnie runs the two Golden Retriever trials and therefore can't enter. Thank you, Bonnie for your efforts in putting on trials for us. – without volunteers like you we would not have the opportunity to compete.
Steve Hall and his English Springer Spaniel, Maggie have set a high standard. They got their first leg in CDX with a 196.5 and then achieved their AKC Beginner Novice Title with scores of 196.5, 197 and 198! Maggie is another environmentally sensitive dog and Steve is working hard on proofing distractions and bond.
Joanne White, my Most Improved Student for 2019, and her Labrador Retriever, Mica achieved their second CDX leg – 2020 will do it! Joanne and Mica also titled in Hunt – Working Certificate Intermediate (WCI)
Margaret Jezek and her Bernese Mountain Dogs continue to amaze me! This year, Margaret and Kizmet got their UTD title!!! Not to be outdone, Stigen achieved – wait for it – his CKC TDX – Advanced Brace Novice Draft Dog (ABNDD)- Advanced Novice Draft Dog (ANDD) and Brace Draft Dog (BDD). Margaret, where do you find the time?
Not satisfied with a CD and CDX in one year; Val Beliak and her Golden Retriever, Dealer also kicked butt in the conformation ring. Owner handled to a championship, including a Best of Breed!
Joan Strick and her Shetland Sheepdog, Poet make an amazing team. They earned their AAC Masters Steeplechase Dog in 2019!
Joanne Kinney thinks she's retired! She's been travelling more than she's been home in 2019. She is rightly proud of the Zaniri dogs, including Dealer. But her Golden Retriever, Kix not only got her CKC TD but also qualified 1st, 2nd and 4th in the Alaska Field Trials. A tremendous accomplishment. Check out Canuck Dogs to see just how well the Zaniri Kennel does!
Joanne's sidekick, Susan Highton has obviously enjoyed their travels too! Her Zaniri Golden Retrievers continue to work while they travel! Hrudy got her AKC TD title and qualified All Age Title (Hunt), Young Marilyn has pleased Susan by completing her CKC UD, TDX and Senior Hunter. She is entered in a trial in Alabama in January – I look forward to hearing how it went.
It has been a pleasure working with my students this year. I hope EVERYONE will enter next year! Either that or be prepared to explain why not!!!
Maureen