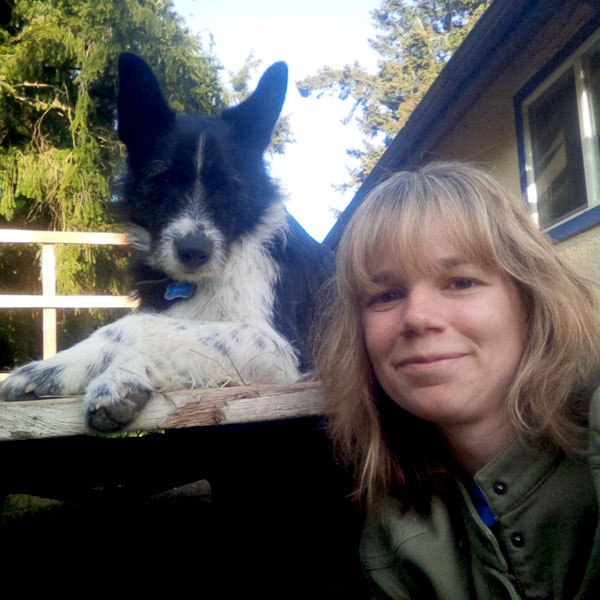 This is Tucker. He is an almost 2 yr old Aussie Shepherd/Border collie. My mum and I had gone on a road trip to Merritt when we received a text to go look at a discount puppy in Princeton. So off we went to go see him, turns out he was the runt of the litter and had been left behind as no one wanted him. He had grey facial hair at 10wks old, which made him look very old and wise already. I of course fell in love with him on sight and brought him home. He slept the whole 4 hour trip back which made us comment on how tuckered out he was. This is where he got his name, Tucker. Little did we know of the challenges to come.
Up until 4 months ago, he was raised on a farm and didn't know much beyond the basic sit, down commands. We signed up for our first class with Jane in January. I'm pretty sure between the two of us we exhibited every problem that a dog and owner can experience. Tucker ran through the door, pulling me along behind him. He headed right for Jane and started jumping on her, and trying to run up to any of the other dogs. I can guarantee he was the loudest dog in that first class. He would not stand, sit or lay down for more than a couple seconds at a time. These were just some of the challenges I had been dealing with on a daily basis.
After the first class I was determined to not be such an embarrassment for our second class. I practiced what we had learned for about 10 minutes every day, and quickly started to see a change in him. Our biggest challenges have been to learn how to channel his energy. What TNT gave me were the tools to start being successful straight away. With eye contact games and learning new ways to keep Tucker busy from distracting environments keeps me on my toes. Now 4 months later people are starting to comment on how much he has improved. No longer jumping on every person and we can even go on walks without too much fuss.
We are well on our way, and hopefully onto an agility competition in the near future.