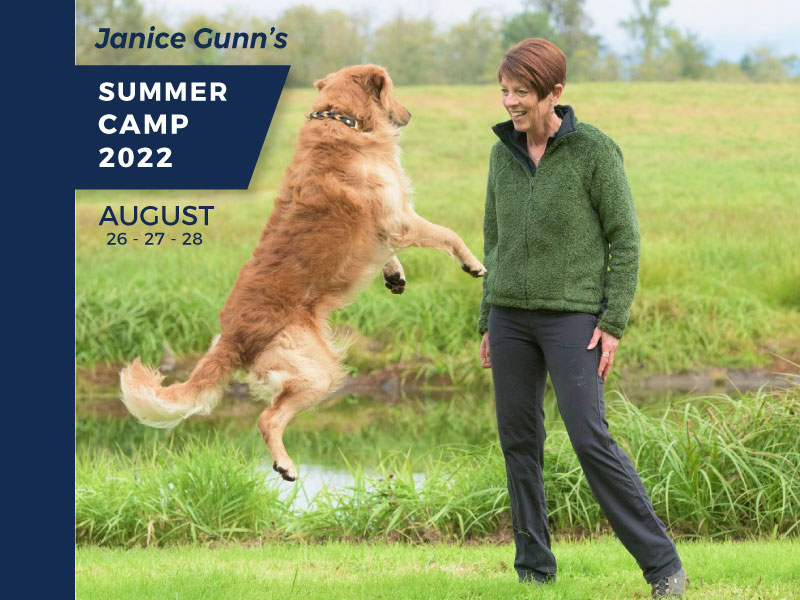 Location: TNT KENNELS – 27624 Watson Road, Abbotsford, BC
Date: August 26-27-28 2022
Cost: $420 –Working spots (all 3 days) |$95 per day – Auditors
Download: Summer Camp 2022 Flyer & Registration
GEARED FOR THE ADVANCED HANDLER
Day One – Is group day, lots of floor time for you and your dogs. Janice will have an exciting program of new training ideas, building a relationship with your dog, how to make training a "game", training using positive methods, how to keep your dog engaged, fun proofing exercises and much MORE!
Friday evening TNT will provide the Pizza, and BYOB. Mingle about and get to know the other camp participants. Lots of fun!
Day Two –You will have an individual session(s) to work on what exercise(s) you want. AKA – Handler's choice. At the end of the day, the TNT ponds and land will be open to enjoy a leisurely walk, swim your dogs or get in a bit of field training.
In the evening a no-host dinner at a local restaurant – always a
fun & engaging evening out socializing with each other.
Day Three – A day to cover ring entry skills, handling skills, trial preparation, show ritual, what to do with your dog in the ring in between exercises, mental toughness, and more! Suggestions welcomed for more topics. T
Topic focus for this day is subject to change. Whatever it is will be fun and informative and you will be working your dogs!