Meet the  TNT Instructors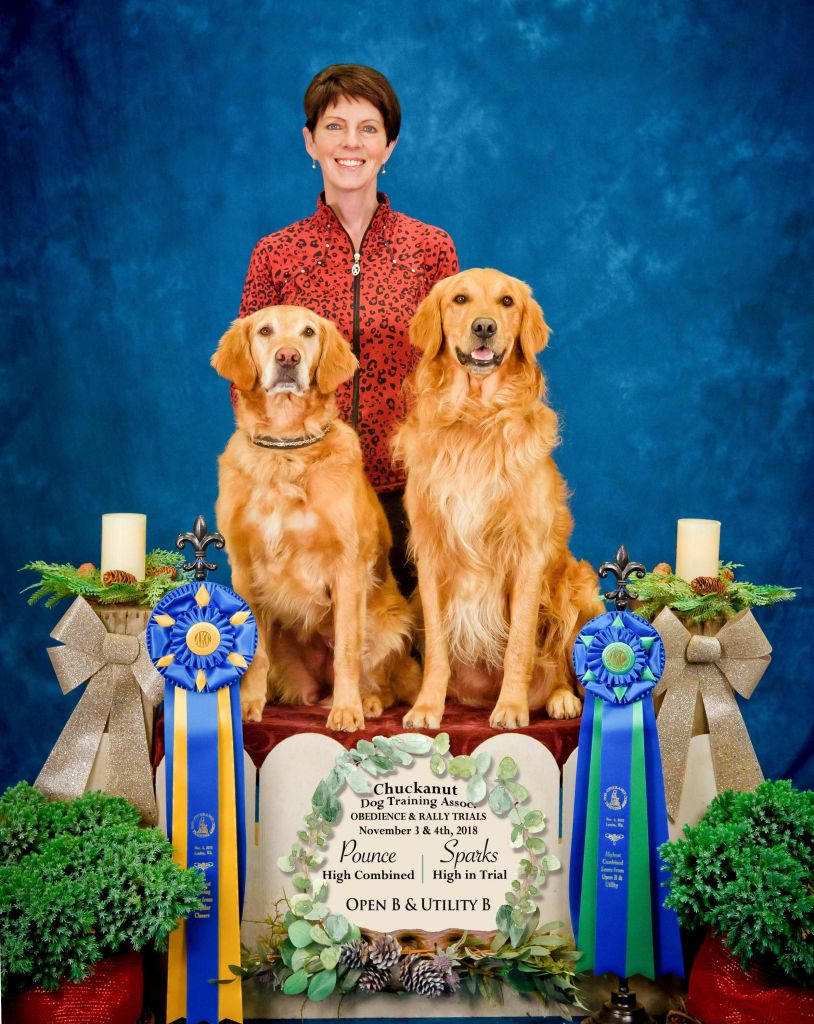 The TNT Training Center opened  in 1998! Owner, Janice Gunn is the main stay behind the training class structure. She has been training dogs for 47  years , but it's not only her longevity in the world of dogs that has given her, her expertise. Janice has attended training seminars with some of the World's best  dog trainers. The list includes, multiple seminars with Ian Dunbar, Terry Ryan, John Rodgerson, Truid Ruugas, Patricia McConnell, Jean Donaldson, Leslie Neilson, Ken Rameriz, Michelle Pouliot, Nichol Wilde, Brenda Aloff & Sue Sternberg just to name a few! There are many others as well. Janice has also attended APDT and 6 Clicker Expo  conferences these are the best of the best.  Her methods are up to date and she shares with you her expansive knowledge.  Janice herself is world-renowed and a highly succesful top International Competitor.
Janice has earned titles in many different venues, actually proving that she can train a dog, AND that her training follows through in competition where dogs exhibit stress and anxiety and often have a difficult time performing at their best. There is a fine balance in dog training when using food to train. Dogs learn very quickly in the presence of food, but when the treats are gone, only a properly trained dog will perform in the ring. And this requires a skilled trainer, one that understands how to find the balance between using food rewards, and yet still "teaching" the dog how to perform without food.
This is why TNT is so unique, Janice and her instructors actually DO compete with their own dogs and earn titles. They are not afraid to put themselves on display and show the world that they really do know how to train a dog. Janice herself has earned titles to the highest levels. This includes titles in conformation, agility, tracking, field trials, hunt tests and competition obedience.
We are confident that you can build a lasting relationship with your dog to diminish behavioral problems and expensive bills due to idle destruction or the uncooperative grooming or vet client. Decrease the stress of pet ownership and enhance your quality of life with your canine. We will teach you the skills for a healthy lifelong bond with your dog!
Janice Gunn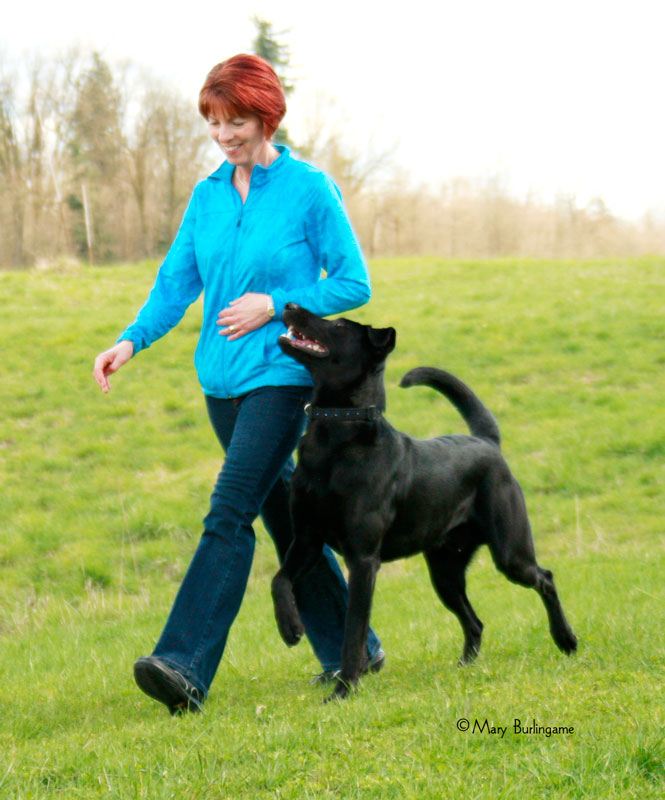 Janice's Accomplishments Include:
Member of numerous breed and obedience clubs
Multiple PERFECT 200 SCORES – with NINE different dogs
Has titled 11 dogs to the elite obedience OTCH title
 Numerous High in Trial and High Combined Awards
Has earned titles in obedience, field trials, Master hunters, conformation, tracking & agility
Successfully competes in obedience & hunt tests
Has been training dogs for over 45 years
Has produced 8 successful videos on competition obedience training
Has been a featured columnist for multiple dog magazines including Dog Sport and Front & Finish
Has attended over 50 of the top leading seminars and conferences on dog training
Is a highly sought-after Obedience Seminar Presenter and coach
Owner/operator/creator of TNT Training, est. 1998
Kelly Thorburn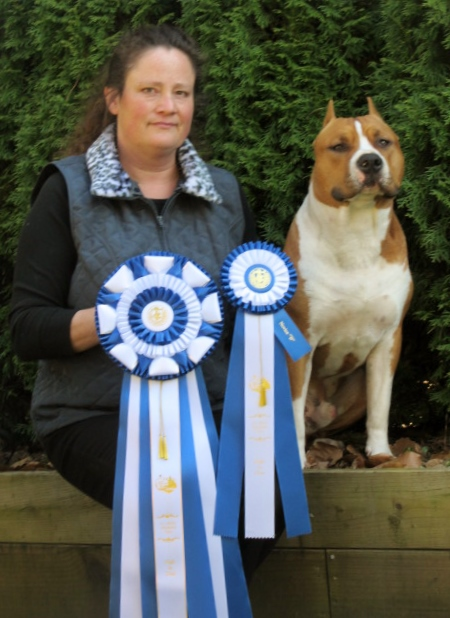 Dogs have always been a part of my life, 25 years ago I decided to make them my entire life and passion.
I enjoy competing and have earned many titles with my dog's in Obedience, Rally and the breed ring both in Canada and the United States.
I absolutely love every minute of raising puppies and know the value that an early introduction to positive training has for the entire life of the dog.
My bred by American Staffordshire Terriers have been recognized as Canada's best on multiple occasions for both performance events and confirmation.I also have Belgian Malinois and I'm currently training my male Renzo that I imported from the Netherlands for the obedience and rally rings.
I have worked part time in the film industry as a trainer for a number of years. Working with both my own dogs and client dogs. I have been an instructor at TNT for the past seven years. I help my students reach their goals and beyond with their new puppies or current adult dog.
When the Canadian Kennel Club Trick Dog Title program became available I was very excited as I love teaching tricks! My dog's have earned multiple trick dog titles from the American Kennel Club.
My Am Staff, Rush was gifted his Elite Performers Title from AKC in honor of all his work in television and film. He has also received the Trick Dog Trophy multiple times from the Venture Dog Fanciers Of California. I am a certified trick dog instructor and evaluator.
I am also pleased to be on the CKC's Canine Good Neighbour List of Evaluators.
I have had the privilege of working with some of the best dog trainers throughout the years and I am honored to be mentored by and train with the amazing Janice Gunn.
As an instructor I look to make training positive and enjoyable for those at both ends of the leash.
I am a member of:
The Canadian Kennel Club
The Dumbbell Obedience Club
The Ventura Dog Fanciers Of California
The BC All Terrier Club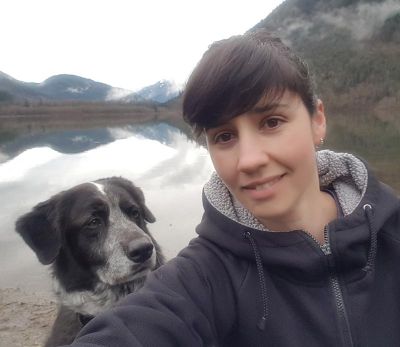 From a very young age I have had a passion for all things furry but especially dogs.  As I was unable to have a dog of my own growing up, this lead to me walking any neighborhood dogs whether they really needed a walk or not.
As a teen, I became focused on horses.  For the next 28 years  I've enjoyed Dressage training, competing in the Show Jumping ring, and horseback camping with my husband and our horses Zoe & Clyde. Throughout this time I owned several "spirited" farm dogs and came to realize I needed to up my game in terms of training my best friends to be more reliable companions.
In 2012 I got Wilson, a Great Pyrenees / Shetland Sheep Dog puppy who started my clicker training journey in earnest.  I began with TNT in 2013 with a focus on CARO Rally Obedience.  Seeing the results of the positive training we received here, I was hooked.  Wilson attained his Canine Good Citizen at 1yr old.  We earned our Advanced CARO Rally, Excellent CARO Rally title (l leg needed)  however I was unable to continue as I was getting ready to bring my first son into our lives.    Since then motherhood, working as a Farrier and the many demands of hobby farm life have been keeping me busy, but I still continue to keep regular clicker training sessions going and sharing this knowledge with my son.
Working as a Farrier by trade, Wilson is my ever-present sidekick and people constantly comment on Wilson's impeccable manners and social skills.  This helps to fuel my ongoing passion to assist other people to understand the importance of a solid, positive training foundation for their dogs.  It brings me great satisfaction to aid people in seeing that their furry nightmares are neither unfixable nor untrainable and that the solution lies in better inter-species communication and training methods.
I'm so excited to be a part of Janice's team at TNT and I look forward to helping you create a solid bond and partnership with your dog.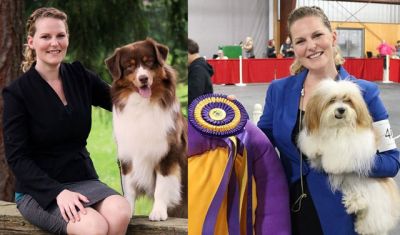 I have always had a great love for all creatures. I shared my childhood with an enormous range of animals, both farm-raised and rescued. After incessantly begging my parents for a dog, they took me to California to pick up my first puppy, a purebred Australian Shepherd. I adored my girl, and while it would be years before I discovered the great world of dog sports my love for dogs was deeply rooted.
I spent my youth training my horses and competing in a variety of equestrian sports. I was an active member of the local 4H club showing Swine, Rabbits and Horses. As a young adult, I came to TNT for puppy classes and continued with further obedience classes where I fell head over heels in love with training. Since then, I have finished 28 Championship titles with my dogs, both in Canada and the USA, and have bred Australian Shepherds that compete in many venues, from Agility and Obedience to Rally and Tracking. In 2017 we added a Havanese to our home. My lovely girl Camila won a very prestigious award at the 2019 Canadian Havanese Nationals and my daughter Mikiah won Best Junior handler. I am a member of the CKC, ASCA and Canadian National Australian Shepherd Association, serving BC and Yukon as District Director. I have also served as show secretary for the local Australian Shepherd Club. I am a 4H leader with the Chilliwack 4H dog club, teaching youth about showmanship and husbandry. Three of my own kids are members of the club and I love that they can all participate in training and competing with our dogs in Agility, Obedience, Junior Handling and Rally.
I am forever grateful to TNT for opening a door into a deeper, more fulfilling life with my beloved dogs, and I am now thrilled to be a part of the team!
Bryanna Anderson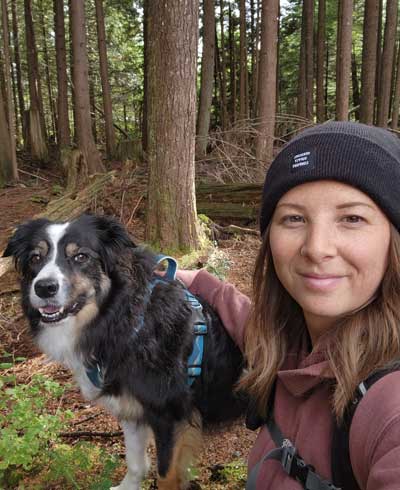 I have been a professional Behaviour Interventionist for 6 years and have used this knowledge with my own dog, a Border Collie named Tui, and then at TNT Training.  I got Tui when she was two years old and realized my love for dogs and passion for training. I began teaching her new tricks right away and in our 3 years together, we have worked through leash reactivity and severe sound sensitivity. Tui has recently earned her CKC Canine Good Neighbour certification.
My current full-time work in higher education has me supporting students in crisis and overseeing an educational program. This experience has honed both my calm response to challenges and ability to translate complex topics into digestible information. In this environment, Tui works with me as a partner and therapy dog and is often at TNT training classes giving exercise demonstrations for our students.
In our free time, we love to train, go for hikes, run on beaches, and play in parks.