The TNT Training Center opened  in 1998! Owner, Janice Gunn is the main stay behind the training class structure. She has been training dogs for 45  years , but it's not only her longevity in the world of dogs that has given her, her expertise. Janice has attended training seminars with some of the World's best  dog trainers. The list includes, multiple seminars with Ian Dunbar, Terry Ryan, John Rodgerson, Truid Ruugas, Patricia McConnell, Jean Donaldson, Leslie Neilson, Ken Rameriz, Michelle Pouliot, Nichol Wilde, Brenda Aloff & Sue Sternberg just to name a few! There are many others as well. Janice has also attended APDT and 6 Clicker Expo  conferences these are the best of the best.
Janice has earned titles in many different venues, actually proving that she can train a dog, AND that her training follows through in competition where dogs exhibit stress and anxiety and often have a difficult time performing at their best. There is a fine balance in dog training when using food to train. Dogs learn very quickly in the presence of food, but when the treats are gone, only a properly trained dog will perform in the ring. And this requires a skilled trainer, one that understands how to find the balance between using food rewards, and yet still "teaching" the dog how to perform without food.
This is why TNT is so unique, Janice and her instructors actually DO compete with their own dogs and earn titles. They are not afraid to put themselves on display and show the world that they really do know how to train a dog. Janice herself has earned titles to the highest levels. This includes titles in conformation, agility, tracking, field trials, hunt tests and competition obedience.
We are confident that you can build a lasting relationship with your dog to diminish behavioral problems and expensive bills due to idle destruction or the uncooperative grooming or vet client. Decrease the stress of pet ownership and enhance your quality of life with your canine. We will teach you the skills for a healthy lifelong bond with your dog!
Janice Gunn
Janice's Accomplishments Include:
Member of numerous breed and obedience clubs

Multiple PERFECT 200 SCORES – with EIGHT different dogs

Has titled 10 dogs to the elite obedience OTCH title 

 Numerous High in Trial and High Combined Awards

Has earned titles in obedience, field trials, Master hunters, conformation, tracking & agility

Successfully competes in obedience & hunt tests

Has been training dogs for 45 years

Has produced 5 successful DVDs on competition obedience training

Has been a featured columnist for multiple dog magazines including Dog Sport and Front & Finish

Has attended over 50 of the top leading seminars and conferences on dog training

Is a highly sought after Obedience Seminar Presenter and coach
Jane Eskuri CPDT-KA
Jane's love for dogs has been strong since she was a child. She has had rescued many dogs through her years and her desire and love to work with dogs continues today.
Jane fostered dogs for many groups and adopted a Greyhound off the track. That led to volunteering for Saint John Ambulance with her dogs in Therapy work. Jane has done volunteer therapy work with three of her dogs. Her two current Therapy certified dogs a Chihuahua, Hula Hoop and a Great Dane, Sookie.
Sailor her English Cocker was 4 years old before she began training in competitive obedience with TNT. Since then Sailor has completed multiple titles including : CD (Novice), CDX (Open), RN (Rally Novice), RA (Rally Advanced), RAE (Rally Excellent)  and TD (Tracking Dog), DD (Draft Dog) often with 3 consecutive legs and multiple High in Class wins.
Sailor earned a Top Obedience Dog Award for 2011 from Dogs in Canada for placing first in points won by English Cocker Spaniels.
The next Dog Jane had competing was a Great Dane Rescue named Sookie. Sookie is registered with the CKC with a performance number. Sookie earned a CGN (Canine Good Neigbour), CD (Novice ) with a High in Trial and High in Class wins. Sookie earned her CDX (Open) title in 2012 with two high in class scores. Sookie is ranked number one in points for a Great Dane in Obediance in Canada for 2012. Sookie has her Rally Novice and Rally Advanced titles through the CKC. She is the first Great Dane to receive a Draft Dog Title in Canada. Having passed the Draft Dog test twice she is also the first Great Dane to have Draft Dog 2 in Canada. Sookie is also a Therapy Dog with Saint John Ambulance.
Jane also has her Chihuahua Hula Hoop. Hoops was supposed to be a conformation dog but after breaking her leg in an accident that dream was gone. She has been an amazing therapy dog with Saint John Ambulance since 2010. Hula Hoop earned her Canine Good Neighbour certificate in 2011. Hoops earned her Rally Novice title in 2012. Hula Hoop has also passed her Pre-Novice trial in 2012. Jane is a member of the Chihuahua Club of Canada , the Western Great Dane Club and Dumbbell Obedience club.
Jane passed her CPDT-KA evaluation
Jane Completed Dog Trainers academy in Dubuque Iowa April 2010.
In 2014  – Jane became an official evaluator for the Canadian Kennel Club's Canine Good Neighbour program.
Jane is DogSafe canine first-aid certified 
Jane has attended :
 BAT Behavior Adjustment Training For Reactivity Instructor (Attended Trainer course August 2013) Grisha Stewart
C.A.R.A.T Clothier Animal Response Assessment Tool ( Attended C.A.R.A.T 1 training seminar June 2013)
Jane has attended and participated in seminars with the following Dog Trainers and Behaviorists.
Michele Pouliot
Nicole Wilde
John Rogerson
Grisha Stewart
Ian Dunbar
Patricia McConnell
Pat Miller
Jean Donaldson
Janice Gunn
Ward Falkner
Jane Killion
Denise Fenzi
Joy Henderson and Vaughn Franske
Ron Gaunt
Brenda Aloff
Myra Savant-Harris (canine reproduction)
Jane continues her education through video seminars including the following training DVDs:
Brenda Aloff:
Puppy Problems? No Problem!
Aggression in Dogs
Get Connected with Your Dog
Book: Canine Body Language
Bob Bailey
The Fundamentals of Animal Training
Ivan Balabanov:
Obedience without conflict
Bridget Carlsen
Jean Donaldson:
Ian Dunbar:
VHS series
Give them a scalpel & they will dissect a kiss.
Dog Aggression Biting
Claudia Fugazza:
Janice Gunn:
Step By Step Puppy/Novice
Step By Step Open/Utility
Proofing and Problem Solving
Sarah Kalnajs:
Am I Safe?
The Language of Dogs
Emily Larlham:
Patricia McConnell Ph.D.
Leslie McDevitt
Control Unleashed
Pattern Games
Kim Moeller:
Michele Pouliot
Step Up to Platform Training
Step Up Your Training for Dog Sports
Grisha Stewart:
BATing 1000 2 day seminar
Organic Socialization: BAT for Aggression & Fear in Dogs
Give your Puppy a Choice
Turid Rugaas:
Calming Signals: What Your Dog Tells You
Sue Sternberg:
Dog-Dog Engagements Between Unfamilar Dogs-Why it's so Risky
Steve White:
HITT Hydration intensified Tracking Training
Nicole Wilde:
Dissecting the Dynamics of Dog-Dog Play
Separation Anxiety
Dr. Sophia Yin:
And many more DVDs, VHS and books
Kelly Thorburn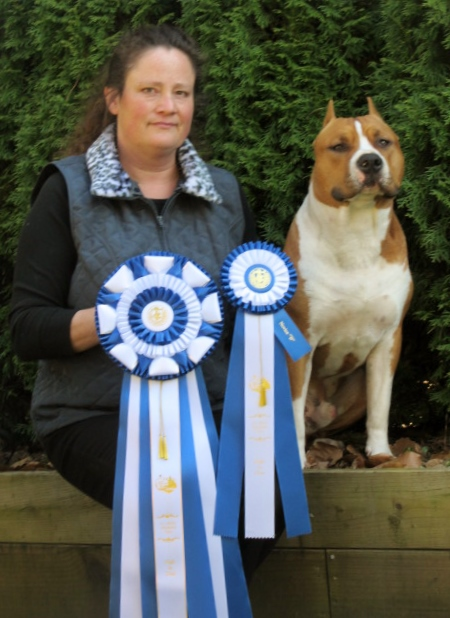 Dogs have always been a part of my life, 25 years ago I decided to make them my entire life and passion.
I enjoy competing and have earned many titles with my dog's in Obedience, Rally and the breed ring both in Canada and the United States.
I absolutely love every minute of raising puppies and know the value that an early introduction to positive training has for the entire life of the dog.
My bred by American Staffordshire Terriers have been recognized as Canada's best on multiple occasions for both performance events and confirmation.I also have Belgian Malinois and I'm currently training my male Renzo that I imported from the Netherlands for the obedience and rally rings.
I have worked part time in the film industry as a trainer for a number of years. Working with both my own dogs and client dogs. I have been an instructor at TNT for the past seven years. I help my students reach their goals and beyond with their new puppies or current adult dog.
When the Canadian Kennel Club Trick Dog Title program became available I was very excited as I love teaching tricks! My dog's have earned multiple trick dog titles from the American Kennel Club.
My Am Staff, Rush was gifted his Elite Performers Title from AKC in honor of all his work in television and film. He has also received the Trick Dog Trophy multiple times from the Venture Dog Fanciers Of California. I am a certified trick dog instructor and evaluator.
I have had the privilege of working with some of the best dog trainers throughout the years and I am honored to be mentored by and train with the amazing Janice Gunn.
As an instructor I look to make training positive and enjoyable for those at both ends of the leash.
I am a member of:
The Canadian Kennel Club
The Dumbbell Obedience Club
The Ventura Dog Fanciers Of California
The BC All Terrier Club
Linda Moran
Linda has been involved with purebred dogs since 1987 and has successfully run dogs in all levels of the CKC Hunt Test program, Working Certificate programs while trialing in Competitive Obedience and breeding the occasional NSDTR litter under the "Kasomor" prefix.
"She is a fully qualified CKC Hunt Test judge, a CKC Canine Good Neighbour Evaluator, and a Member of the CKC and Nova Scotia Duck Tolling Retriever Clubs Canada and USA.
Currently, Linda is owned by three Nova Scotia Duck Tolling Retrievers; Trio, CH Westerlea's Kasomor Trio SH WCX CDX, her daughter Tikka, MOTCH GCH Kasomor's Wack 'Em N Stack 'Em SH WCX CGN and Tikka's daughter, Kimber, Kasomor's Pop 'Em N Drop 'Em JH WC.
Tikka was CKC #2 Obedience NSDTR in 2013 and 2011. She is the 5th female toller to earn her MOTCH title and the first Grand Champion and MOTCH titled toller in breed history.
Kimber is the new pup in training and Trio is retired to "warmer of the couch" status."
Linda takes great pride in her dogs CKC titles but more importantly in the fact that her dogs are great family pets welcome in homes, hotels and stores because of their solid obedience and manners.
The vast majority of Linda's obedience training, over the past 12 years, has taken place at Janice Gunn's TNT Training Center under the tutelage of Maureen Murray.
S

he particularly enjoys working with young puppies and dogs and sharing her knowledge with their people to make their dogs GREAT companions!!
Linda is DogSafe canine first aid certified
Lâle (Lally) Aksu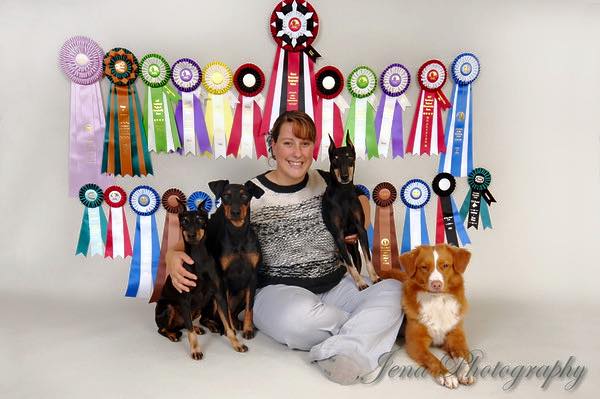 Lâle came to Canada from Germany in 2004. Her background in teaching stems from 17 years as an equestrian where she schooled young horses and taught children how to ride. Lâle grew up with an assortment of animals and her passion continues to grow. Lâle now devotes her free time to dog training.
Currently, she owns and trains a Manchester terrier named Eddie. Lâle feels that this dog has taught her many things about training as he, like many terriers, has not been the easiest dog to train! Yet, Lâle has achieved many successes with Eddie in Obedience, Rally and Agility. Eddie has his CD &Rally Excellent titles and is a Master Agility Dog of Canada.
Lâle believes that all dogs can achieve success with motivational training and her philosophy is based on positive reinforcement. She feels that the dog is better able to learn when treated kindly and with positive rewards. While Lâle loves dog training, she and Eddie also enjoy long walks, playing ball and having play dates with their doggy friends.
In her professional life, Lâle is the new kennel operator at TNT.   She  is a CARO judge and in process of becoming a CKC Rally judge. Lale is happy to be part TNT Kennels training program, and will be a top notch kennel operator!

Lâle is DogSafe canine first-aid certified
Maureen Murray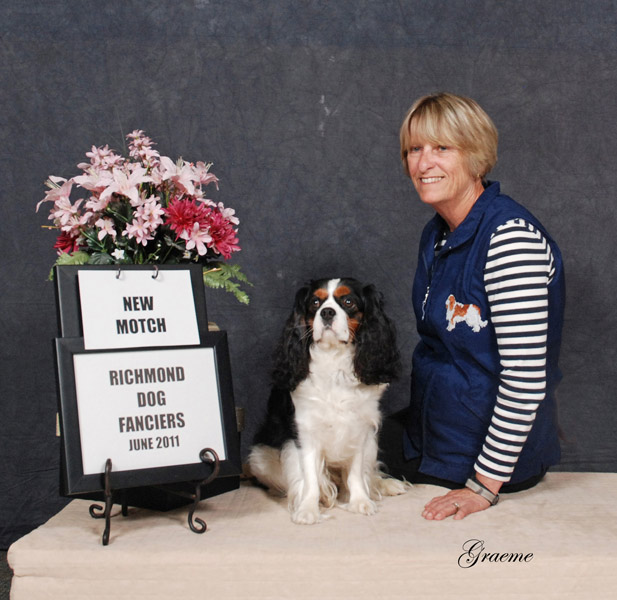 I have had dogs in my life since childhood; my husband not only got a wife, he got a dog too.
I have participated in obedience since 1995; when upon becoming "empty nesters" my husband and I were looking for new hobbies. It quickly became a passion as I took our first Cavalier through the levels and attained an OTCH, the highest title available at that time. I enjoy competing with a non-traditional breed and showing that all dogs taught in the correct manner love doing their "work".
Bentley having attained a MOTCH, is supposed to be retired at 12 but he still wants to work with Mom every day. His son, Chipper, started his competitive career in May and since then has gone 13 for 13 to attain his Canadian/American CD and has 13 legs in Canadian CDX. He is currently the #1 Toy Dog in Canada in Obedience.
Participation in obedience has led to other areas; I am an evaluator for St. John Therapy Dogs as well as for the CKC Canine Good Neighbour Program.
Lori Little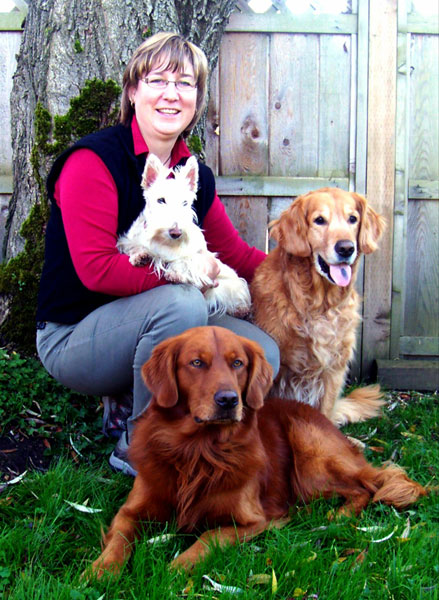 I got my first Golden Retriever 12 years ago when I realized that my horse habit was getting to expensive. Since that time I have trained and titled my dogs in obedience, tracking, field trials & hunt tests, draft dog, earthdog & conformation. Zak was the 2nd dog to ever receive a Master Versatility Title from the Golden Club of Canada. He was the 10th dog (over 26 years) to receive the prestigious Nan Gordon award with ribbons in field, obedience and conformation.
I also own a Scottish Terrier named Morgan whom I am training in competition obedience and earthdog work. My husband Rick, and son Logan are both supportive and will often be found behind the scenes as I work the dogs.
Janice Gunn has been instrumental in most of my training. Our obedience base has helped us in every venue we venture into, and my dogs are excellent ambassadors when in public or just hanging in the house with the family.
I am happy to be able to share my vast knowledge with my students. Now let's have some fun training!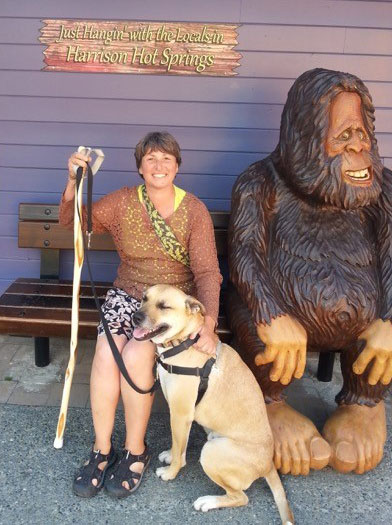 Letsa Bantassios graduated with honors and is a certified dog trainer through the American Behavior College in California and Walks N Wags Pet First Aid certified. My love for animals has led me to a lifetime commitment working with horses and dogs. I have owned many dogs, most come to me as unwanted pets with behavioral problems that with gu