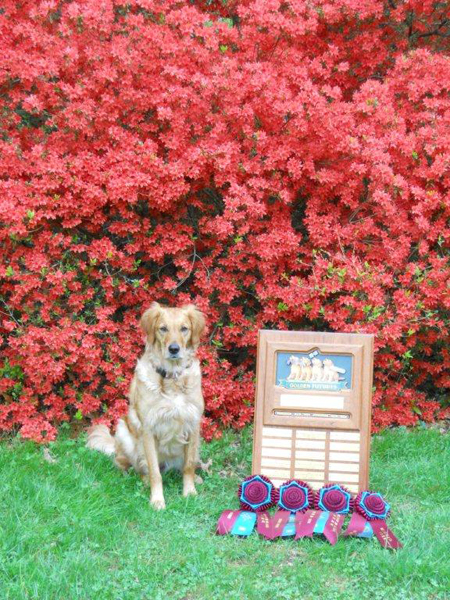 Introducing Stanley Steamer daughter "Jazz" registered name is Roux's Steamin' Red Hot Blues CD RE JH NAJ WC, out of Emberain Etouffee MH*** owned and loved by Beth Sokohl
Jazz won the Golly G's Golden Futures trophy in honor of CH BARGELLOS GOLLY G's LOUISE CD, SH, WC at the Potomac Valley Golden Retriever Club.
The purpose of this trophy is to recognize the top junior dog or bitch for outstanding achievements in at least two areas of endeavor and to encourage well-rounded participation in multiple areas of activity. This award is designed to recognize young, talented, multipurpose dogs, but not to push them beyond their growth and physical development.
Her owner reports that Jazz is about to enter her in her first senior tests this month! We have no doubt she will do it with style.
The picture to the left shows Jazz, her trophy and various ribbons she garnered for the six titles she completed last year – Way to Jazz it up!