Wiley
FTCH AFTCH TNT's Wild Thing CD, AADC, Am.CD, NA
May 20, 1997 – Nov. 24, 2009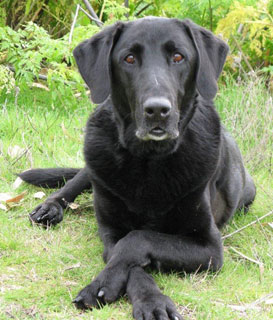 Wiley was a kind, sweet, dog. With every new puppy that came into our household, Wiley nurtured them, played with them, and always allowed them to sit on top of his head! Wiley was retired from competition at the early age of 5 years old due to an injury. He lived his 12 years with us enjoying numerous trips, hunting, and he loved his swimming.
Wiley was a fighter….he had numerous surgeries for his leg injury during his life. He also had serious and chronic sinutitis. He endured many trips and procedures at the vets as we tried to help him recover from this condition. But he suffered with it all his life.
Two years ago he "crashed" while we were in California. We stumbled upon a wonderful vet there whom literally gave Wiley his two remaining years of life. This vet discovered that Wiley also had a serious heart condition, and gave him 2-3 months to live. He put him on multiple antibotics and heart mediciations which John and I adminstered to him twice daily for the next two years!
These two remaining years were literally a gift, and Wiley enjoyed them immensley. Just this past summer, he travelled to Minnesota, Regina, and romped on the Oregon Coast with us. In the end, Wiley did not scummage to his sinutitis or heart condition, but rather his body could no longer hold him up and his surgery legs were causing him great pain and John and I altho we tried to deny it many times, knew that the only humane thing for Wiley now, was to lay him to rest.
Wiley had a will to live like no other dog I have ever seen. He loved our family of dogs, John, I and life itself. His determination thru his many complicated health issues showed us how much he loved life. Wiley, you are forever in our hearts, Love, Janice and John and your K-9 brothers and sisters  whom all adored you. PS – the above pictures were taken a few days after Wiley's visit to the vet in California. Prior to that, Wiley was in grave condition. The vets out here were unable to help him and he was slowly dying….talk about being re-born!
About Wiley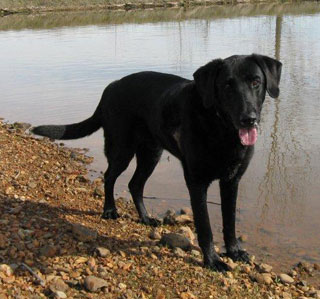 Wiley's sire is our beloved FTCH AFTCH FC AFC Stroker. He weights 80 lbs. and stands 25″ high. Wiley is described in one word- FAST ! Like his dad, he is extremely birdy and he runs hard in the field. Wiley is 100% amateur trained and trialed. He holds his CD obedience title in Canada and the United States.
Wiley also competes in agility and has earned his novice agility title in the US and his advanced title in Canada. Wiley had a successful 2002 trial year which included two wins. He earned both FC and AFTCH titles. He is one of the top ten Open dogs in Canada.
Wiley's Field Trial Results
| Date | Trial | Level | Placement |
| --- | --- | --- | --- |
| Feb. 28, 04 | Willamette, OR | Open | 3rd |
| Oct. 4, 03 | SE Washington Trial | Open | 4th |
| Sept. 27, 03 | Spokane, WA | Open | RJam |
| Aug. 8, 03 | Tacoma Ret. Club, WA | Amateur | RJam |
| Aug. 8, 03 | Tacoma Ret. Club, WA | Amateur | RJam |
| July 2003 | Cdn Amateur National | | FINALIST |
| May 11, 03 | Richmond FT | Amateur | R. Jam |
| April 19, 03 | VIRC, Victoria, BC | Open | 3rd |
| April 12, 03 | BC Gun Trial | Open | 4th |
| April 6, 03 | BC Amateur Trial | Amateur | 1st |
| Feb. 14, 03 | Phoenix Trial, CA | Amateur | Jam |
| Feb. 11, 03 | S. Arizona Trial | Open | 3rd |
| Aug. 10, 02 | Logan Lake, BC | Open | 2nd |
| June 29, 02 | Kamloops, BC | Open | RJam |
| June 16, 02 | BC Okanagan Club | Open | 1st |
| Mar. 31, 02 | BC Amateur, BC | Amateur | 2nd |
| Mar. 30, 02 | BC Amateur, BC | Open | 1st |
| Mar. 22, 02 | Tacoma Ret. WA | Open | 3rd |
| Feb. 15, 02 | Phoenix Ret., CA | Qualifying | 1st |
| Feb. 8, 02 | S. Arizona, CA | Qualifying | Jam |
Wiley's Pedigree
Parents
Grandparents
Great-Grandparents
AFTCH. FTCH. FC.AFC. Stroker (Blk)
AFC. Trieven
Classical Jazz (Blk)
FC.AFC. Gahonk's Pow-Wow (Blk)
Can.
FC.AFC. Trieven Classic
(Blk)
Stan's Licorice Candy (Blk)
FC.AFC. San Joaquin Honcho
(Blk)
Camay Morning (Blk)
Travlin's LicoriceLady   (Blk)
FC.AFC. Moss
Point'sHot Cake (Blk)
FC.AFC. San Joaquin Honcho
(Blk)
FC.AFC.NAFC.Westwind Jemima
Super Cake (Blk)
Wind Shadows Strega (Blk)
FC.AFC.NAFC. Piper's Pacer
(Blk)
Chena River Kate (Blk)