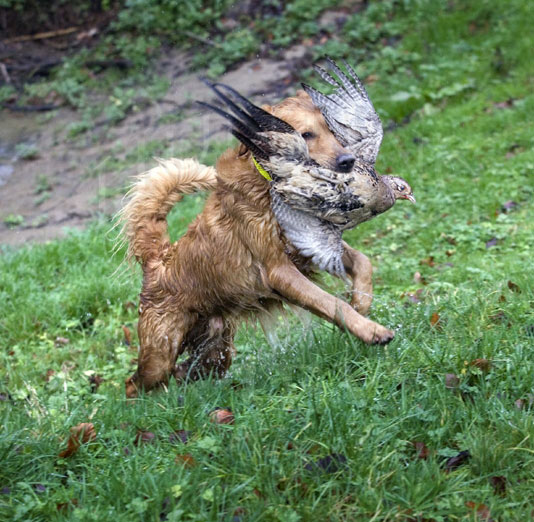 Stanley son, Yankee aka Good Luck Yankee is "stationed" overseas in Germany with owners Petra & Michael Golz. Petra tells us that while the German system of Field Trialling doesn't offer the range of titles that we see in North America it is possible to earn two honours – a "fit for special hunting breeding" and an entry in a special studbook of the German Hunting Association. Yankee has earned both. Yankee is out of Suzanne Burr's Emberain Amiable Ultimatum.
Petra sent us some details on recent competitions with Yank "Yankee solved two super tests before the hunting season. A 'VPS' (a open test from the German Hunting association). Content are a blood-track (24 hours, 400m), a search of living game (of a large wood area), search under the gun, rabbit track and the 'work on the living duck', he has to push out of the reed. Of course also obedience tests. It's not a special retriever-test, it's for all huntingbreeds. Yank won this test with a super result!! In every field he got full points (200/200) and he got an additional valuation "excellent" for his 'work on the living duck'. That's very seldom, because all three judges must substantiate this valuation in writing!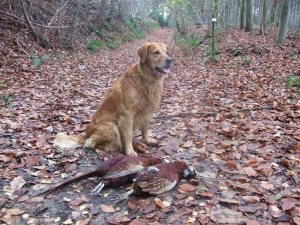 Two weeks later I made the elite test of the "German Retriever Club", the "Dr. Heraeus Gedächtnisprüfung". Also a test with game. There you have a track over 500 m over obstructions, work in reed for a duck, a double marking, two difficult blinds, a search with several dogs and a track over water (first you have to send the dog over deep water and than you have to direct the dog to the track). This test he solved with "excellent" and a 2nd place. The 1st place had the same valuation, but the dog was a little bit younger, so he got the first place. "
Way to excel Yankee!