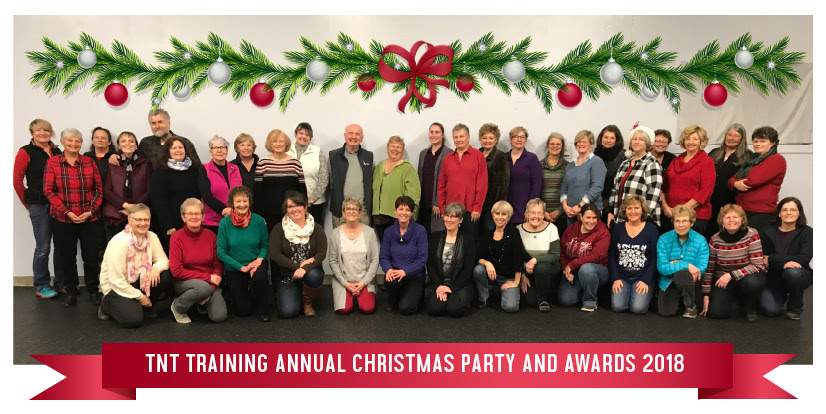 Welcome to 2019!
Message from Janice
Congratulations to our students and instructors for their accomplishments in 2018.

We had quite a busy year at TNT with on-going classes and events. Lale Aksu hosted 2 fully licensed Caro rally trials, open to all, well done Lale! Maureen Murray plans to host a TNT Student match to help prepare our students for the spring trials, date TBA. Linda Moran hosted a seminar on getting started in the field with your retriever and Kelly Thorburn headed up the Vaudeville team.

I hosted a seminar in November with Victory Hulett from Florida. It was very good and we got lots of great new training tidbits. The Dumbbells club has plans to hold a seminar at TNT August 31 and September 1. I highly suggest you come out and support these seminars! I also hosted my 13th Annual Summer Camp, 2019 will be the 14th, and I may retire camp at the 15th Annual. It has grown very popular over the years. This year, camp sold out within 2 hours of the flyer release. All 20 working spots are sold and there are 15 handlers on the wait list. There are auditors spots as well, and there are a few spots left. I hope you will consider auditing, there is so much you will learn! Dates are August 3, 4, 5.

Unfortunately I had to retire Remi. He had stem cell surgery in the summer for damage to both legs, all achilles tendons were stretched and frayed. It is due to repetitive stress, something they cite in Labradors and Doberman's and it is also degenerative. He will miss obedience and he will really, really, really miss working in the field. I will miss Remi by my side so very much in the competition venue.

Both Sparks and Pounce were invited to Orlando Florida for the Obedience Championships and also to the prestigious Westminster Championships in New York City. It is a huge honour to be invited but I do not plan to fly my dogs in the winter, or fly my dogs at all. Pounce and Sparks have had an amazing competition year, winning numerous High in Trial and High Combined awards with outstanding scores.

All our instructors at TNT are simply the best! Thank you to Maureen, Lori, Linda, Lale, Jane, Kelly, Letsa for being such a great team. You all support each other and you are wonderful. I am quite consumed with running the business. It is very stressful most of the time as I have way to many projects on the go. So I really thank you guys for lending a hand to each other out when the cry for help goes out.

I wish you all the very best of health, happiness and joyful dog training in 2019

Janice

We would like to thank the Dumbbells Club for putting on such a wonderful show. We taped their performance and you can view it by clicking the button below.

Click on the instructor buttons below
to see the awards and titles earned by that instructors students
Janice's Students 
Steve Hall and Maggie – Alynn's Iron Lady (English Springer Spaniel) earned their Pre- CD and CD with a high in Class along the way.
Lori's Students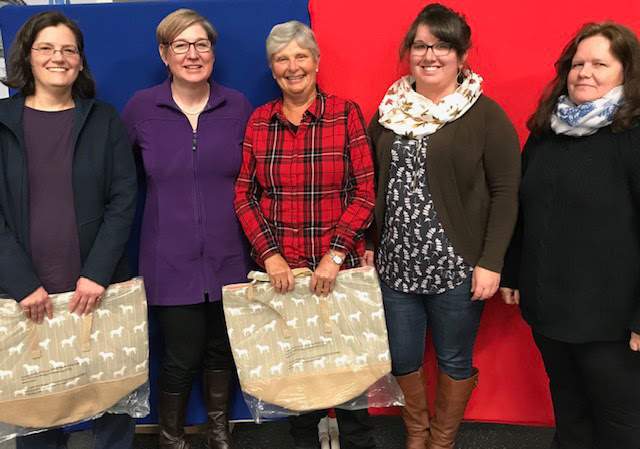 Elizabeth Wilmot, Lori Little, Mary Philpott, kelsi Warawa, Sheena Randall
Top Student:
Mary Philpot with Murphy – CH Tollerpride's Make Mine Murphy CGN, CD, RA (Nova Scotia Duck Toller)
Most Improved Student:
Liz Wilmot with Gibson – Meradi's Triple Play of Zaniri PCD (Golden Retriever)
Titles Earned by Lori's Students
PCD
Liz Wilmot and Gibson – Meradi's Triple Play of Zaniri PCD (Golden Retriever)
Sheena with Matti – GrCh Gatineau del Rio RN PCD (Belgian Malinois) – Matti also earned her Grand Championship in conformation
CD
Kelsi and Soleil – Rio's Kurios Cirque duSoleil – (Golden Retriever) – Soliel also earned her CCA.
Mary Philpot with Murphy – CH Tollerpride's Make Mine Murphy CGN, CD, RA (Nova Scotia Duck Toller)
Other Titles & Legs
Martha Baldwin with Cooper -Vanstone Coup de Coeur Westray (Australian Shepherd) earned their TD.
Wendi Daeschsel with Pippa – Teseko Princess Pippa (Belgian Tervuren earned her Herding Intermediate (ducks) and the first leg of her Herding Advanced (sheep).
Maureen's Students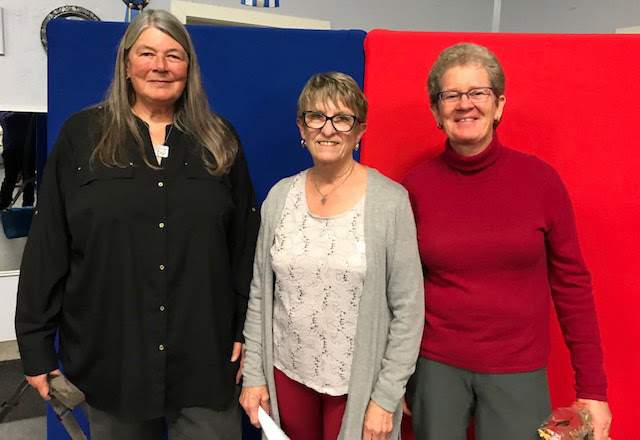 Susan Highton, Maureen Murray Anneka Scholten
This was a quiet year for competition for my students; those who did enter had good success; and those who did not excelled in other areas. I am hopeful that EVERYONE will hit the ring in 2019!
Top Student:
Susan Highton
Most Improved Student:
Anneke Scholten
Pins/Titles Earned by Maureen's Students
CGN
Anneke Scholten with Chip – Boxjoy's Microchip (Boxer)
Pre-CD:
Janet Winch and Shetland Sheepdog, Dougall (Longhauls Little Brown Juggler PCD, RN)
CDX:
Margaret Jezek and Bernese Mountain Dog, Kismet (Am GCH Ch Lavender Hills Midsummer Night's Dream Come True AKC TDX, CDX, RE, FCD, GMDD – CKC CD, RA, DDX, BDD, TDX
Anneke Scholten and Boxer, Onyx (Boxjoy's Great Expectations CDX, RI)
UD:
Susan Highton and Golden Retriever – CKC and AKC
Accomplishments in Other Disciplines and CKC Obedience Legs:
Gail Blanchet's Miniature Poodle, Ella (Hushaby's Ella Ah Rock'n) got her CKC Grand Championship
Bonnie Norquay's Miniature Poodle, Envy *Hushaby's Runvs) got her CKC Grand Championship
Gail Bradshaw's English Cocker, Sarah (Int Ch, Can Ch Kyna Silkweaver CGN ) got her CKC Championship and an International Championship as well as her CGN. Sarah took time out to have a litter (well a puppy – Gemma) who is a keeper
Margaret Jezek's Bernese Mountain Dog, Kismet (AKC GCh CKC Ch Lavender Hills Midsummer Night's Dream Come True TDX, CDX, RE, FDC GMDD CKC CD, RA, DDX, BDD, TDX) piled up an impressive accomplishment list from Rally to Drafting. Besides their AKC CDX they finished their AKC FDC and CKC RA and BDD
Margaret's younger Bernese, Stigen (Ch Triple B's Higher Path TD, RN AKC TDX, FDC, DD, BDD) is also on a roll! Margaret and Stigen completed their CKC TD and their AKC TDX, FDC, DD, BDD. Midst that they found the time to go in and do well earning their first CD leg.
Joan Strick and her Shetland Sheepdog, Poet (Ch Agile Poetry in Motion CGN, CDX) got their first, but not last!!! leg in UD with a High in Class. They also continued their excellence in Agility earning AAC Advanced Agility Dog of Canada and Masters Snooker Dog of Canada
Stephanie Halse was not in the ring this year; but she flew to Europe, picked up a Nova Scotia Duck Toller puppy (Poppy) and flew back the next day! That's dedication. Poppy's lineage goes back to Stephanie's Jinx. Stephanie shared that her Toller, Jester, who is ready to CDX attained his International Gold Championship – a well rounded boy.
Joanne and Laureen Kinney took turns being picked on by me; not sure who enjoyed it more me or them?! Golden Retriever, Juice (NMH GMH Talin Zaniri Frz'n Concentrate CD, RN WCX, CCA / AKC CD, MH, WCX) achieved her CKC NMH and her AKC MH this year.
Joanne and Laureen Kinney's Golden Retriever, Kix (NMH2 GMH Zaniri Kick It Up A Notch CD, RN, WCX & AKC MH) completed her NMH2 and AKC MH in 2018. I would also like to point all of you to the Canuck Dogs Website if you want to see how well dogs Joanne and Laureen have bred are doing in Obedience – amazing, and lovely too!
Valerie Beliak and her Golden Retriever, Dealer (Zaniri's All In RN) got their RN with multiple High in Class. They also completed their SH and WCI. Another multi-talented Zaniri dog who I predict will be in both the obedience and conformation rings in 2019.
Jan Burghardt and her Yorkshire Terrier, Starbucks (Westmeaths Because I Can) completed their RAE in 2018 and had 6 High in Class doing it! They can now turn their attention to CDX.
Judi Dunlop and her Golden Retriever, Chai (Ch Tanglewood Tickettea Boo CDX) earned their first leg for the Senior Hunter Title
Judi isn't busy enough with Chai so she and Golden #2, Fin (Ch Tashora Ravengold Finlaggin) played in the conformation ring and completed their Canadian and International Championships.
Anneke Scholten and her Boxer, Onxy (Boxjoy's Great Expectations CDX, RI) not only got their CDX but also their RN
Anneke Scholten and Cory Van der Ende's Boxer, Chip (Boxjoy's Microchip PCD, RI, CGN) had a successful year completing her RI and prepping for CD
Janet Winch and her Shetland Sheepdog, Dougall (Longhauls Little Brown Juggler PCD, RN) got their PCD and Rally Novice titles
Out of obedience with an injury; Janet's Shetland Sheepdog, Christopher (Ch Highledge Twisting Fate) got his CD and
Susan Highton really had a good year! Her Golden Retriever, Hrudy (GMH OTCH Zaniri's Full Till RA, TD, WCX & AKC MH, RA, UD, WCX) finished both their CKC and AKC Utility Titles! Then with just a few weeks of training got a TD
Susan Highton's upcoming Golden Retriever star, Marilyn  is ready to rock now that Hrudy is finished. While waiting in the wings; she got 3 legs to her CKC Senior Hunter Title.
I would say the accomplishments in various disciplines show just what a talented group of dogs and handlers we have. But best of all, to me, is the comradeship and sportsmanship they all exhibit.
Special kudos to Judi Dunlop and Joan Strick for the dedication they have shown in their training to be ready to enter Utility. Take a look at how many people stall after CD or CDX – good on you, girls!
I would also like to acknowledge Joanne and Laureen Kinney – take a look at the number of Zaniri dogs on this list – and even more impressive; go to Canuck Dogs and see how dogs they have bred are performing – IMPRESSIVE!