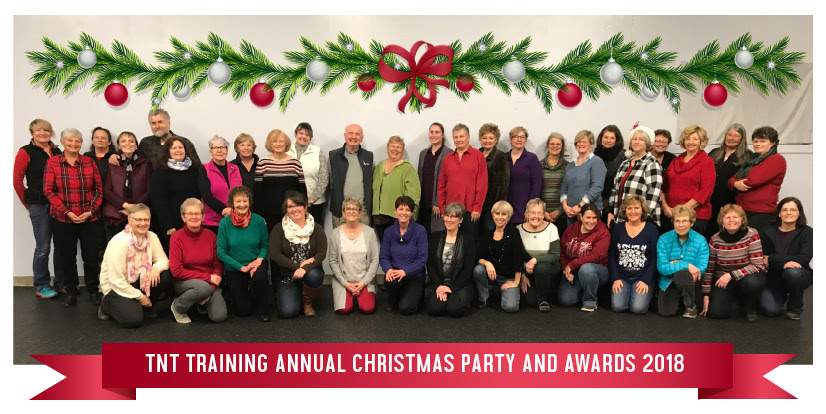 Welcome to 2019!
Message from Janice
Congratulations to our students and instructors for their accomplishments in 2018.

We had quite a busy year at TNT with on-going classes and events. Lale Aksu hosted 2 fully licensed Caro rally trials, open to all, well done Lale! Maureen Murray plans to host a TNT Student match to help prepare our students for the spring trials, date TBA. Linda Moran hosted a seminar on getting started in the field with your retriever and Kelly Thorburn headed up the Vaudeville team.

I hosted a seminar in November with Victory Hulett from Florida. It was very good and we got lots of great new training tidbits. The Dumbbells club has plans to hold a seminar at TNT August 31 and September 1. I highly suggest you come out and support these seminars! I also hosted my 13th Annual Summer Camp, 2019 will be the 14th, and I may retire camp at the 15th Annual. It has grown very popular over the years. This year, camp sold out within 2 hours of the flyer release. All 20 working spots are sold and there are 15 handlers on the wait list. There are auditors spots as well, and there are a few spots left. I hope you will consider auditing, there is so much you will learn! Dates are August 3, 4, 5.

Unfortunately I had to retire Remi. He had stem cell surgery in the summer for damage to both legs, all achilles tendons were stretched and frayed. It is due to repetitive stress, something they cite in Labradors and Doberman's and it is also degenerative. He will miss obedience and he will really, really, really miss working in the field. I will miss Remi by my side so very much in the competition venue.

Both Sparks and Pounce were invited to Orlando Florida for the Obedience Championships and also to the prestigious Westminster Championships in New York City. It is a huge honour to be invited but I do not plan to fly my dogs in the winter, or fly my dogs at all. Pounce and Sparks have had an amazing competition year, winning numerous High in Trial and High Combined awards with outstanding scores.

All our instructors at TNT are simply the best! Thank you to Maureen, Lori, Linda, Lale, Jane, Kelly, Letsa for being such a great team. You all support each other and you are wonderful. I am quite consumed with running the business. It is very stressful most of the time as I have way to many projects on the go. So I really thank you guys for lending a hand to each other out when the cry for help goes out.

I wish you all the very best of health, happiness and joyful dog training in 2019

Janice

We would like to thank the Dumbbells Club for putting on such a wonderful show. We taped their performance and you can view it by clicking the button below.

Click on the instructor buttons below
to see the awards and titles earned by that instructors students