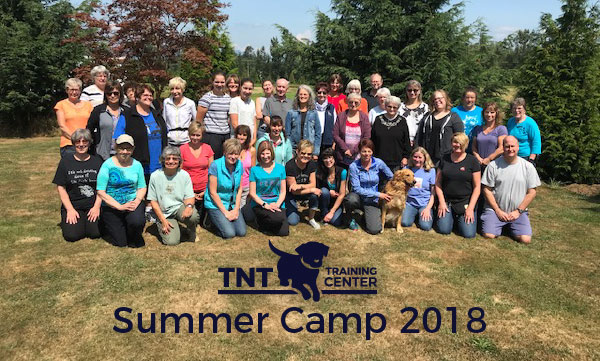 This year we again had campers from all over Canada and the USA. Campers that have been in attendance every year since conception, or have attended before, each time say "this was the best one yet!". I always incorporate new ideas and exercises so it is never identical year to year. Having my dogs there to do demonstrations is always the icing on the cake. There were some important foundation exercises we went over, as well as introducing and practicing advanced ones.
We covered A LOT of content! The social part of camp is also very rewarding. By day three it was really cool to see the campers had gotten to know each other, and were supporting each other.
Next year dates will be August 3, 4 & 5, 2019. The flyer for registration will come out in our November newsletter.
Feedback from this Years Campers
Thank you so very much Janice for another fabulous and fun learning experience at your Summer Obedience Camp!
It always amazes me that you have so many new and challenging ways to teach us. New ideas for my older dog and lots for my beginner puppy.
Your passion for our sport shines through, you are such a natural trainer. We are so lucky to be able to attend. Again, thank you, and I am looking forward to next year!
Just completed my 1st Janice Gunn summer camp. What a blast! Great information and ideas.
It's motivating me to get out of the field and obedience train!
Wow what an amazing 3 days !! 41 pages of notes – lots to review!
Such a great opportunity to attend and learn from the incredible, knowledgeable and talented Janice . Always learning more each seminar I attend – the camp was full of wonderful people and I learned so much watching each dog and handlers. Thank- you !
Had a wonderful and inspiring time at the Janice Gunn seminar at TNT. Janice is a gifted trainer and communicator, with some very creative ideas, always thinking about how to improve. She clearly put a lot of preparation into this camp!
I can't get enough of Janice!!! What a wonderful camp experience. Janice keeps inspiring me to learn more and keep it fun. Thank you Janice!
I am sooo happy! I met great people! Lovely working dogs. The depth of experience, is what I crave. Janice you continue to impress me over and over. The best seminar by far that I have ever been to.
Fun!!! I am amazed at the level of joy in all the working dogs executing really complex behaviours with speed, and especially Janice's dogs, did amazing demos.