Congratulations to the Students and Instructors who had such success in 2015
A Message from Janice Gunn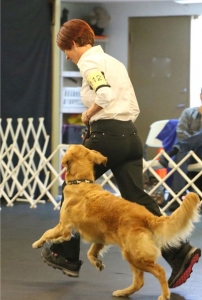 TNT's competition obedience instructors, Maureen Murray and Lori Little and Rally Instructor Lale Aksu have put their hearts and souls into instructing and preparing their students for successful training and encourage and guide them into the ring. Our students have had a good year, and are enjoying the journey of competing with their dogs. And it is a journey, it is a learning experience, and
competing with your dog often shows you where you are in your
training and what you need to work on. Our instructors have had many triumphs with their own dogs this year, including rally, nose work, tracking, conformation, hunt tests, and of course competition obedience. They are talented and dedicated and that's why TNT is the best!
Training is an on going learning experience, for myself as well. Once you think you know it all, well, you might as well pack it in for your ego has got the best of you. This is the reason I bring seminar presenters to TNT that are the best in their field of expertise. I highly recommend you attend these seminars. Yes your instructor might be the knowledgeable, but learning new and different skills and applying them to your training can really be very exciting for both you and your dog. In March 2016 Lindsey Sommer is coming to TNT, on July 30-Aug. 1 I have my Summer Camp and in November, Forrest Micke is returning. It would be great to see students of TNT attending all these events. It is surely an opportunity to learn some new training techniques and exercises. The Lindsey seminar and my Summer Camp are almost near capacity, when that happens registration will be cut off. The Forrest flyer will be out in the New Year. If you don't want or can't get a working spot, audit spots are still very valuable. I often learn more when I audit.
I have trained with some of the best instructors in the field of competition obedience. Anne Marie Silverton and Sylvia Bishop have been mentors for years and years and I have worked very closely with them. Others that I have worked with and that have influenced my training are Patty Ruzzo, Celeste Meade, and most recently, Forrest Micke. I have attended numerous seminars over the past 30 years on competition obedience, agility, tracking, reproduction, trick workshops and behavioural training. But not to stop there, I am headed to California early January to work one on one with the very best in driving building and motivational techniques and that is with the ultimate, Michael Ellis. Late January I will be flying to Reno to attend my 5th Clicker Expo Conference and in February I am giving a seminar in Hawaii.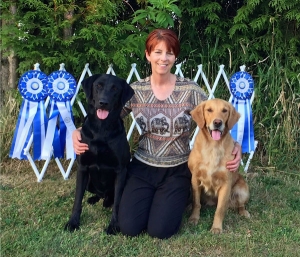 In 2014, Remi my 2 year Labrador Retriever earned his Cdn/Am CD, CDX and UD. Last month at 3.5 years old Remi finished his American Obedience Trial Championship Title. The requirements of the Am. OTCH are very difficult and the competition in the USA is tough! This is an incredible feat, especially for such a young dog. Remi, with limited showing was listed as #15 Obedience Lab in the US and #5 in Canada. We have had many challenges to over come in training and also in the ring, and I couldn't be prouder of what Remi has accomplished. Pounce, my 2.5 year old Golden Retriever earned her Cdn/Am CD and Am. CDX in 2015. As most of you know, I have a wonderful new Golden puppy named Sparks, whom has big paw prints to fill! The bond and intimate communication that obedience training has given me with my dogs is very special and something that I cherish.
Happy training,
Janice Gunn
Year End Awards
Janice Gunn's Student Awards
Top Student – Sandra McKeller and Jewels (Bernese Mountain Dog)
Most Improved Student – Mary Jay Douglas and Cappy (Australian Shepherd)
(unfortunately we were not able to include pictures of Sandra and Mary Jay)
Maureen Murray's Student Awards:
Top Student – Linda Moran/ Heidi Martin
Most Improved Student – Bonnie McLean
Lori Little's Student Awards:
Top Student Team – Jean Macdonald and Katie (Labrador retriever)
Most Improved Student Team – Kirsten Robertson and Markus (Boston terrier)
Lale Aksu's Student Awards:
Top Student #1 – Shelley Anderson with Takoda (Polish Lowland Sheepdog)
Top Student #2 – Lori Lothian with Bella (Corgi)
Most Improved Student – Wayne & Marilyn Timoffee with Mickey (Wheaton x Poodle)
Titles Earned in 2015
If your dog earned a title here and it is not listed please let our webmaster, Leslie Williams, know as we will be adding these titles to our website as well.
Pre-Novice (PCD)
Lale Aksu & Qiss (Manchester Terrier)
Bonnie Norquay & Dicken (Miniature Poodle)
Mary Philpot and Murphy (Nova Scotia Duck Toller)
Bev Korness and Jack (Minature Poodle)
Annette Caspar and Maisie (Golden Retriever)
Lori Little and Rev (Golden Retriever)
Novice (CD)
Bonnie McLean & Nik (Golden Retriever)
Maureen Murray & Brewster (Cavalier King Charles Spaniel)
Cynthia Segger & Blossom (Rough Collie)
Margaret Jezek Kizmet (Bernese Mountain Dog)
Beryl Watson and Maddie,(Golden Retreiver)
Alex Young and Slyde, (Doberman)
Jean Macdonald and Katie (Labrador retriever)
Open (CDX)
Judi Dunlop & Chai (Golden Retriever)
Lynne Dowling and Zuma, (Golden Retriever)
Utility (UD)
Craig Nordal and Ace, (Golden Retriever)
Rally Novice
Lale Aksu & Quiss (Manchester Terrier)
Laura Smith with Riley (Australian Shepard)
Irina – Ajax (Cane Corso)
Stephen – Milford (Flat Coat Retriever)
Sue Gourlie – Spirt (Labrador Retriever)
Ann Copeland- Ruby (Brittany Spaniel)
Amanda Leuzinger & Luke (Border Collie Husky cross )
Shelley Anderson & Takoda ( Polish Lowland Sheepdog )
Rally Intermediate
Jan Burghardt & Starbucks (Yorkshire Terrier)
Rally Advanced
Margaret Jezek Kizmet (Bernese Mountain Dog)
Judi Dunlop & Chai (Golden Retriever)
Kirsten Robertson and Markus( Boston terrier)
OTCH
Craig Nordal and Ace,  (Golden Retriever)
OTCHX
Linda Moran & Tikka (Nova Scotia Duck Toller)
MOTCH
Linda Moran & Tikka (Nova Scotia Duck Toller)
High in Trials
Heidi Martin and Stryker (Staffordshire Bull Terrier)
Linda Moran and Tikka (Nova Scotia Duck Toller)
Maureen Murray and Chipper (Cavalier King Charles Spaniel) x2
Sandra McKeller and Jewels (Bernese Mountain Dog) x2
Other Accomplishments:
Jan Burghardt & Starbuck – first leg Pre-CD
Janet Winch & Christopher – 2 legs Pre-CD
Cynthia & Hamish – 2 legs CDX
Terri Schram & Emma – first CD leg
Joan Strick & Poet – first leg CDX
Bonnie McLean & Ella – 2 legs CDX
Kirsten Robertson and Markus earned 2 legs of CD
Sandra McKeller and Jewels (Bernese Mountain Dog) earned a leg for both Am and Cdn CDs.
Mary Jay Douglas and Cappy – 2 Novice ASCA legs and one Novice CKC leg.
Kelsie Warawa and Soleil, Golden Retriever PCD legs
Wendi Daeschell and Pippa, Belgian Shepard CD legs
Heather Hay and Olive, Flat Coat Retriever earned CD leg
Sharon Cameron and Maisie, Minature Schnauzer legs in CDX
Alex Young and Slyde, Doberman Also earned their CDI title
Annette Caspar and Maisie, Golden Retriever earned WCI, WCX, CGN and TD titles
Lisa Angel (Chihuahua) 2 Qualifying rounds in Rally Novice
Lisa- Reina (Chihuahua) 1 Qualifying Round in Novice
Mary Philpot – Murphy (NSDTR) Two Qualifying rounds in Rally Intermediate CKC
Lori Little and Rev (Golden Retriever) earned his Senior Hunter title, and Tracking Dog title in 2015
Margaret Jezek Kizmet (Bernese Mountain Dog) earned the following titles in 2015!!!AKC:CD Companion Dog,TDX Tracking Dog Excellent,RA Rally Advanced, Ch ChampionWD Working Dog, VD Versatility Dog, CKC:TDX Tracking Dog Excellent, BMDCA:ANDD Advanced Novice Draft Dog, ABNDD Advanced Brace Novice Draft Dog, MDD Master Draft Dog, MBDD Master Brace Draft Dog, GMDD Grand Master Draft Dog (20 passes for this title)
Linda Moran and Tikka (NSDTR)At the 2015 Nova Scotia Duck Tolling Retriever Club Of Canada National Specialty Linda Moran and Tikka went High In Class in both the Open B and Utility B and then went on to win High In Trial. Tikka also won Best Hunting Retriever in the conformation ring. Tikka completed the requirements for her Master Obedience Trial Champion (MOTCH) in September, which included a HIC from the always competitive Utility B Class.Tikka is only the 5th female toller to have achieved a MOTCH!! The following day in the conformation ring she completed the requirements for her Grand Champion title. Tikka is the ONLY toller in breed history to have achieved both the MOTCH and GCH titles!!
Lâle Aksu and Eddie(Manchester Terrier) retired from the Utility Ring in the Spring. That didn't stop him. He earned 5 more Qualifying scores towards his Rally Advanced Excellent Title 2 in CKC, earned his Rally Advanced title in AKC, he earned his open title in Barnhunt, achieved his Nosework level 2, came 2nd in the BC/Yukon Agility Regionals and became National Champion in Agility. He is the first Manchester to ever achieve this. Eddie is now officially: NAgCH AgMCH ATCH Tollchester's Black Vortex CGN, CDX, RAE. AKC: CD RA AXP AXJP XF RATI RATN RATO AAC: Gold Award of Merit, Bronze Versatility Award, CARO Silver Award ASCA: CD, Nosework level 1&2
Lâle Aksu Qiss (Manchester Terrier) Pre Novice Title, Canadian Good Neighbour, Rally Novice for CKC and CARO Rally, Tracking Dog Canada and Urban Tracking Dog of Canada (first Manchester to achieve this), Nosework level 1, achieved Novice Titles in AKC AAC and CKC Agility and was got her instinct test for Rat hunting She is now officially BLACK BANDIT QISS ME KWIK CGN PCD RN TD UTD NAJ NF RATI NW1 CARO RNMCL
Shelley Anderson and Takoda (Polish Lowland Sheepdog ) Started Rally Trialing June 2015, Rally Novice CRNMCL, Rally Novice Team, CKC Rally Novice RN. He also has 2 Qualifying Rounds towards his Advanced CARO Rally. Started Trialing in Agility July 2015. His achievements are: AAC Starter Games Dog of Canada (SGCD) Advanced Dog of Canada (ADC) Master Jumpers. Has his ORT for Nosework all 3 odors
TOP DOGS:
As of December 2, 2015, the following have placed in the top 10 of their breed:
Heidi Martin & Stryker (Staffordshire Bull Terrier) – #1 Staffy / #1 Terrier
Cynthia Segger & Hamish (Smooth Collie) – #1 Smooth Collie
Linda Moran & Tikka (Nova Scotia Duck Toller) – #2 Toller
Gail Bradshaw & Reina (English Cocker Spaniel) – #4 English Cocker
Maureen Murray & Chipper (Cavalier King Charles Spaniel) #1 Cav / #6 Toy